RABBONIM LETTERS
COMMUNITY LETTERS
BIOGRAPHICAL LETTERS
DOCUMENTS
Rav Y. Schwei, Beis Din of Crown Heights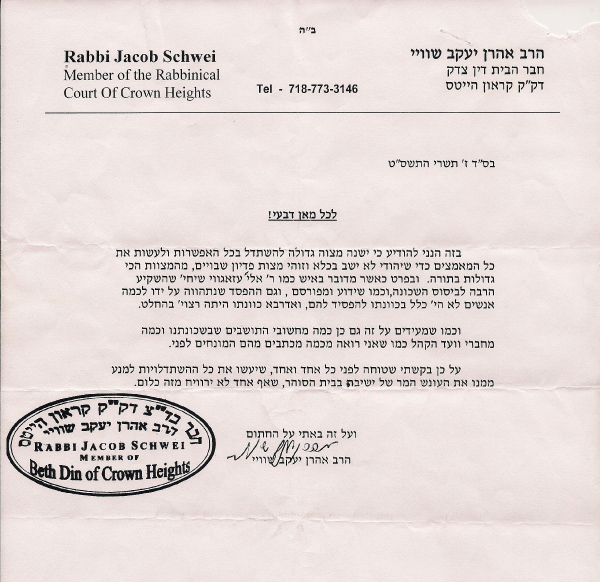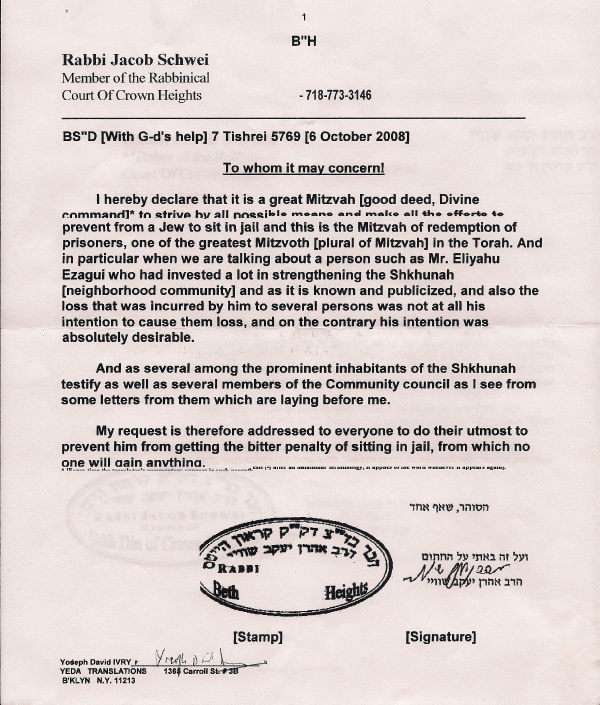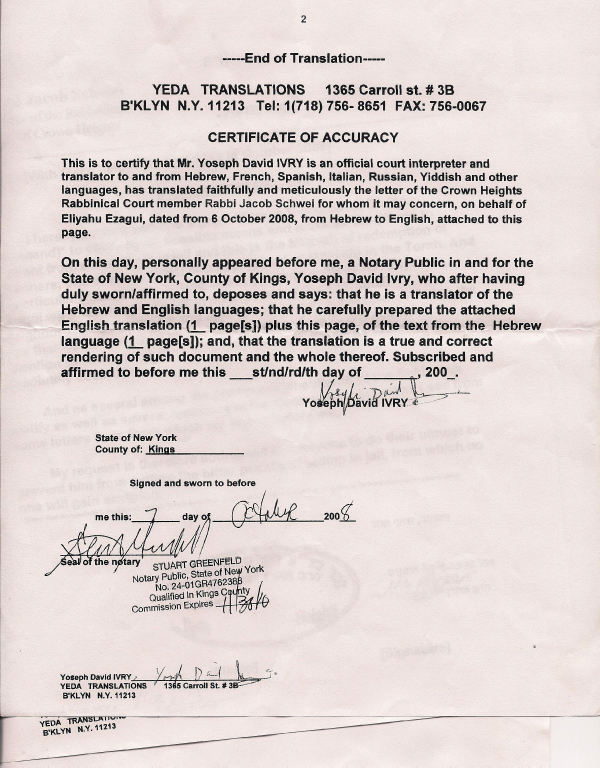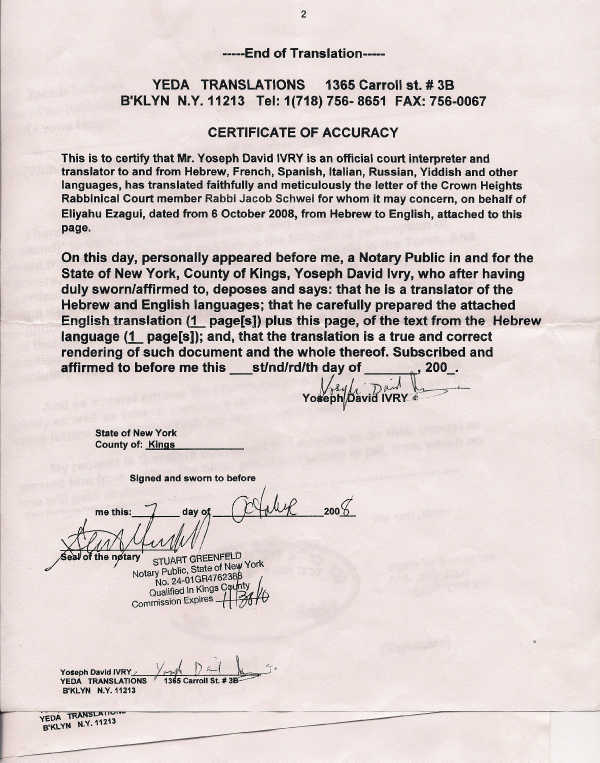 B'Datz, Crown Heights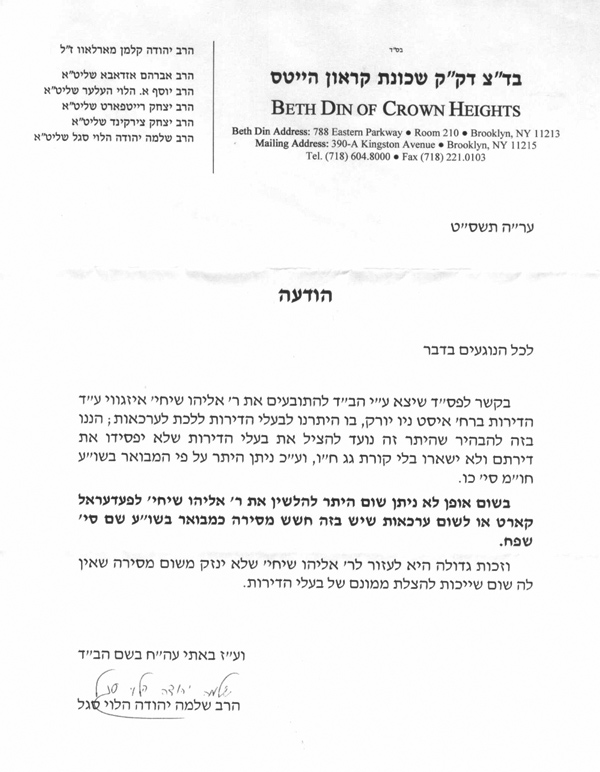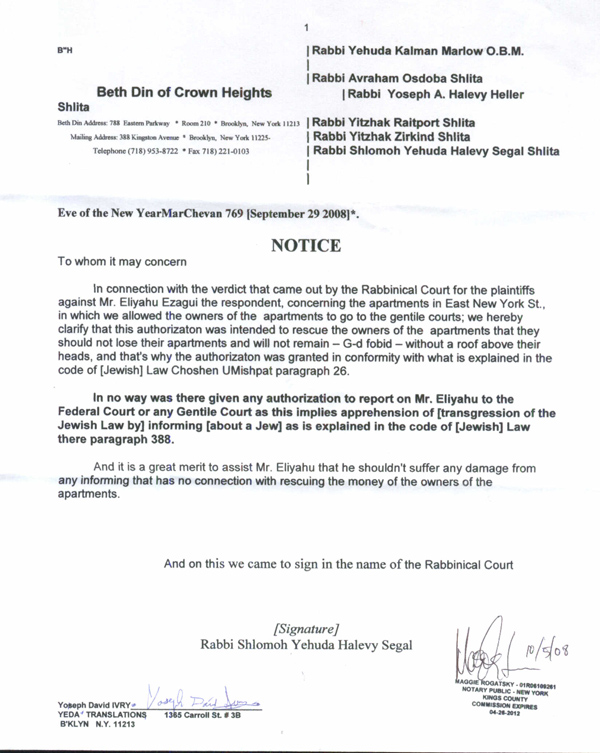 Munkatch Kehilla, USA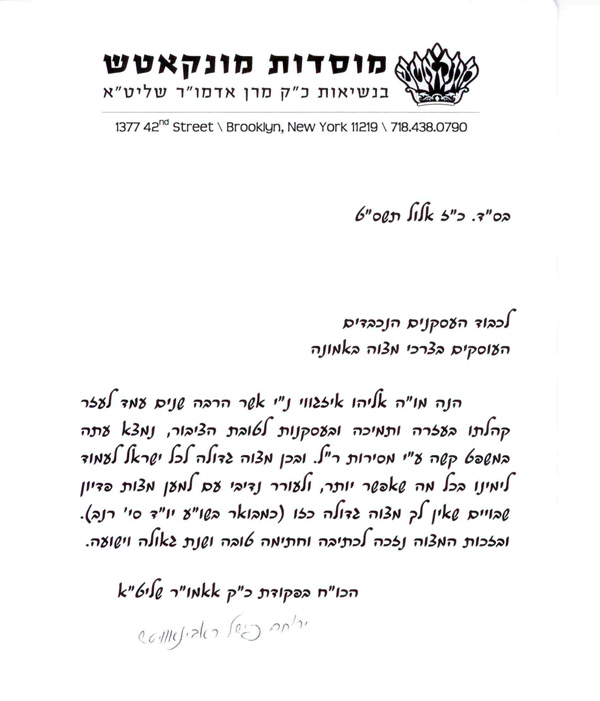 BS"D [with G-d's help]*, 27 Ellul 769 [9/16/2009]
To the esteemed communal workers
who are faithfully engaged in Mitzvah needs
Here my mentor the Reb Eliyahu Ezagui who for many years stood by his community with help and support for its welfare, is now caught in a difficult trial
resulting from slandering heaven protect us. Therefore it is a great Mitzvah for every Israelite to stand by his side with every possible means and utmost vigor, and to awaken the philanthropists among our people for the sake of the Mitzvah of redeeming the imprisoned [and the captured among our brethren] for which there is no greater Mitzvah than this (as it is expounded in the Code of [Jewish Law] Yore Deah page 252). And in the merit of the Mitzvah we shall deserve [to get] a good writing and signature [in the New Year book] and a year of redemption and salvation.
Who writes and signs under the order of his holiness [the] Admo"r [our Master Teacher & Rebbe] Shlit"a [may he merit a long & good life]
Fishel Rabinowitz
Rav Yitzchok Grossman, Chief Rabbi, Migdal Ha-Emek, Chief Rabbinate of Israel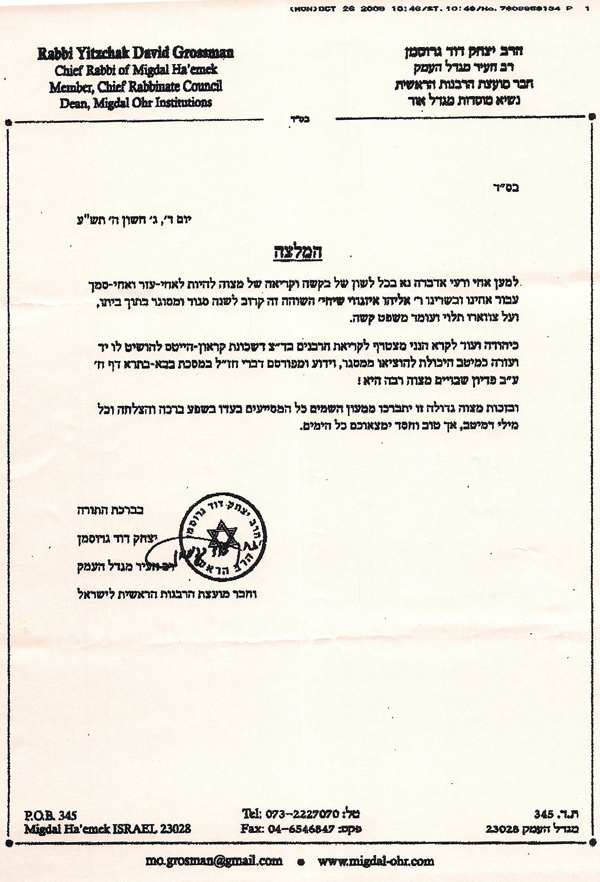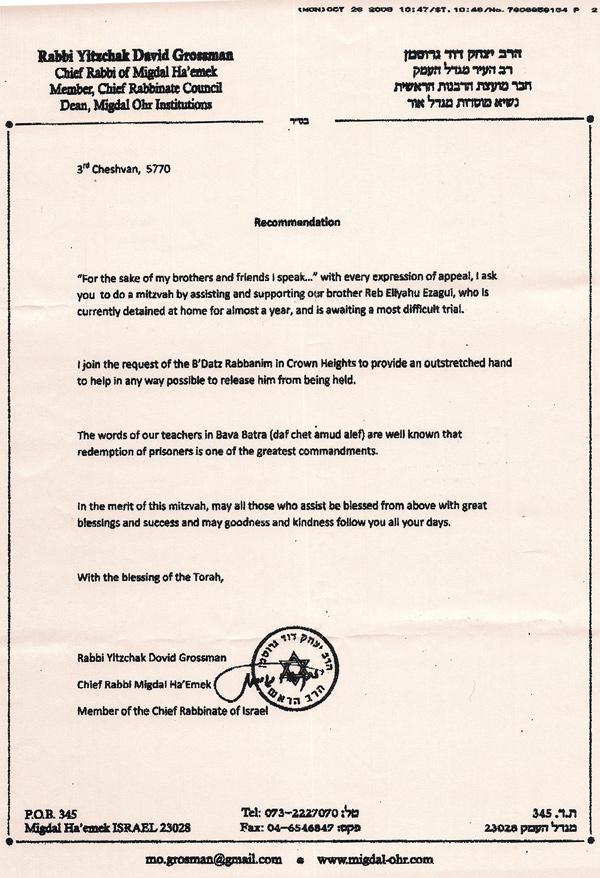 Rabbi M. Bogomilsky, Brooklyn, New York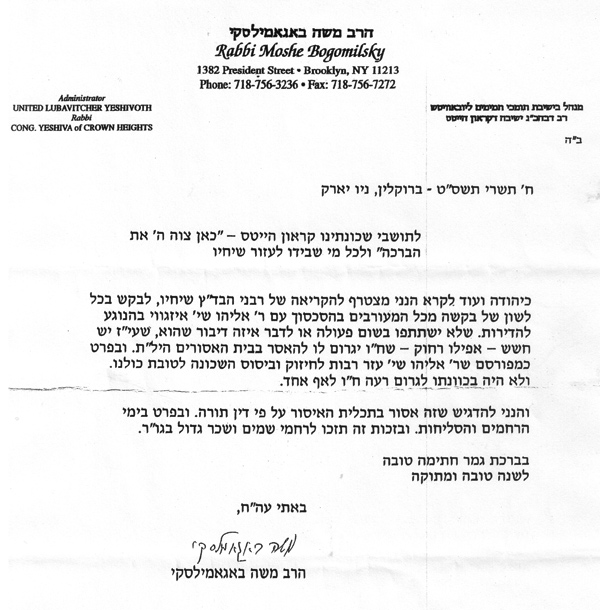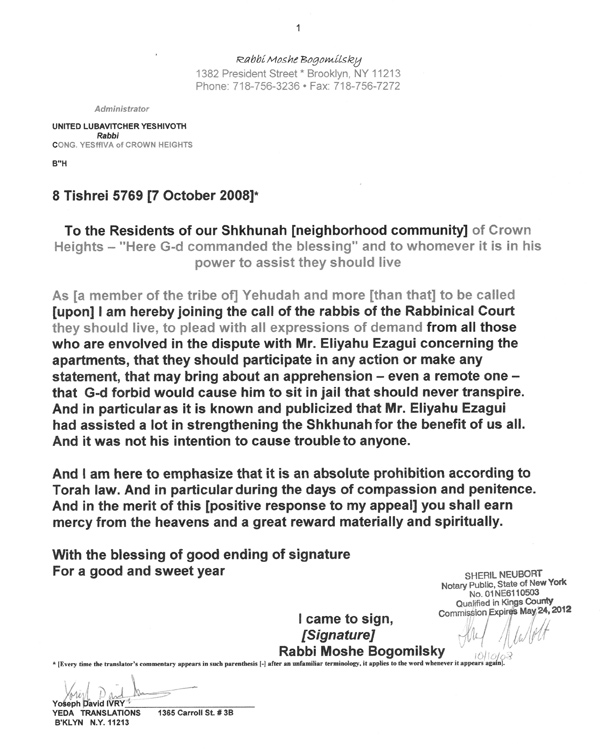 Rav D.M. Druckman, Kiryat Mochkin, Israel
Rav I.Y. Yaroslavski, Nachlat Har Chabad, Israel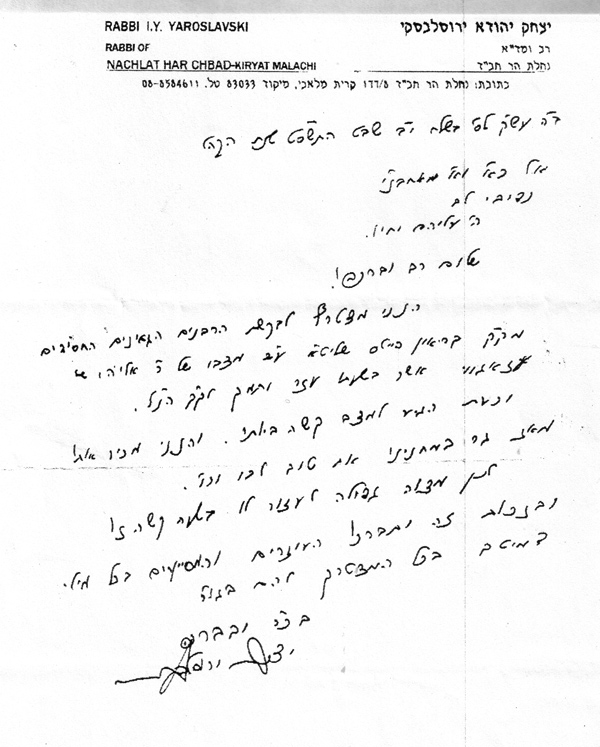 Rav Gedalya Akselrod, Haifa, and Rosh Yeshiva YY Wilschanski, Sefas, Israel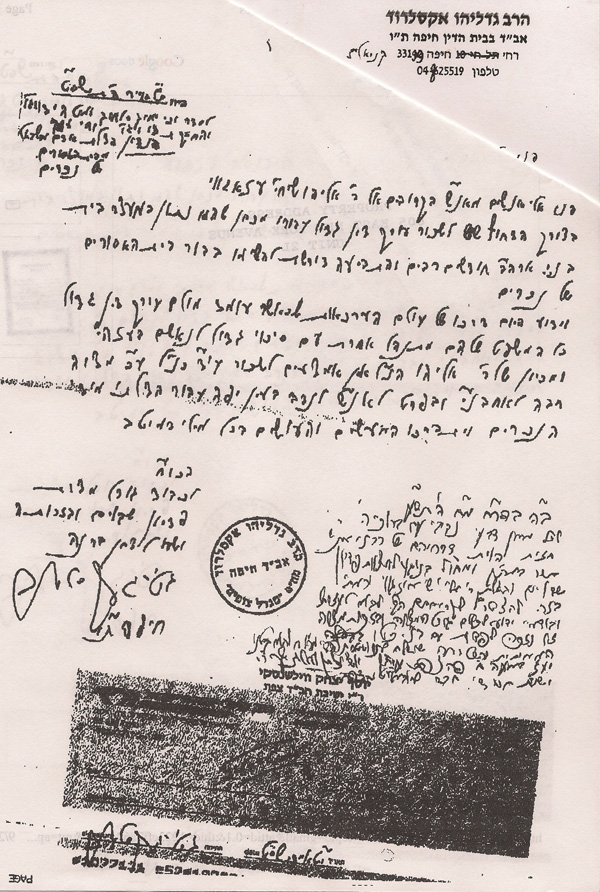 Rav Moshe Havlin, Kiryat Gat, Israel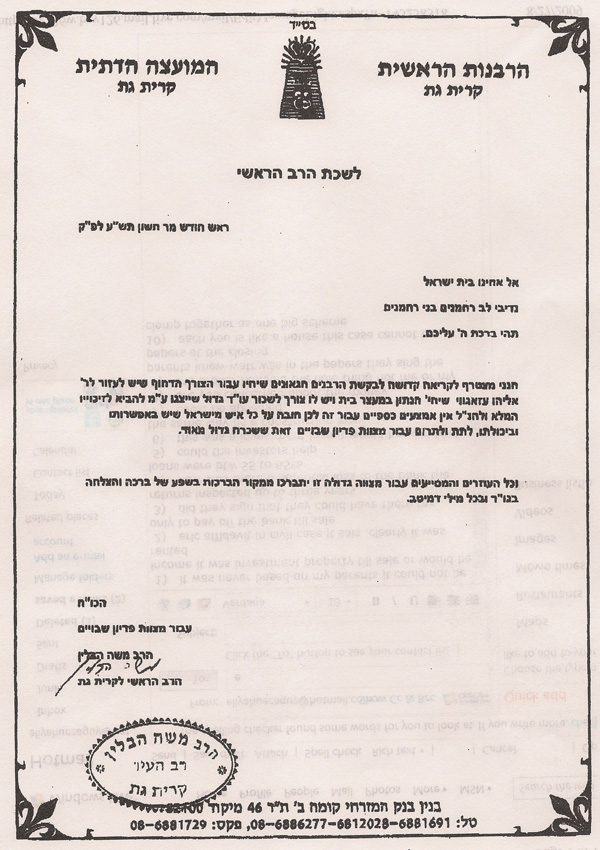 Colel Chabad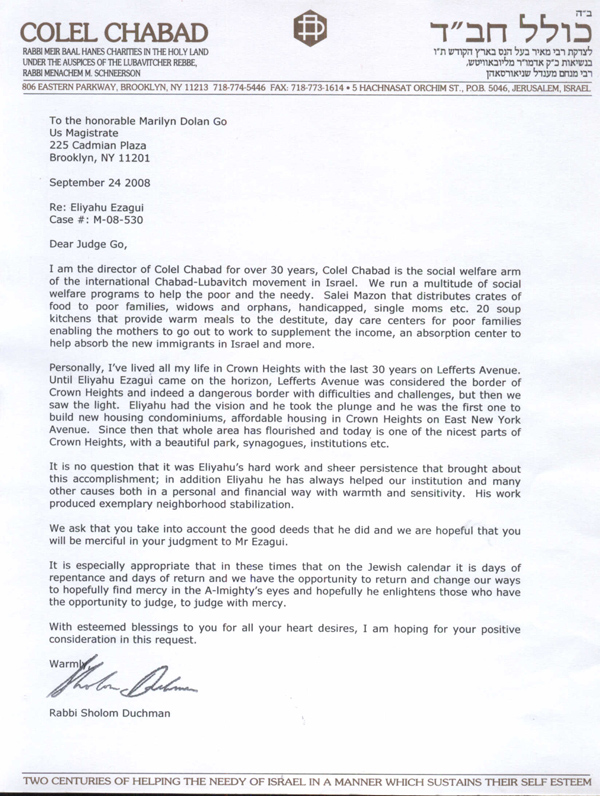 Sheluchim Letter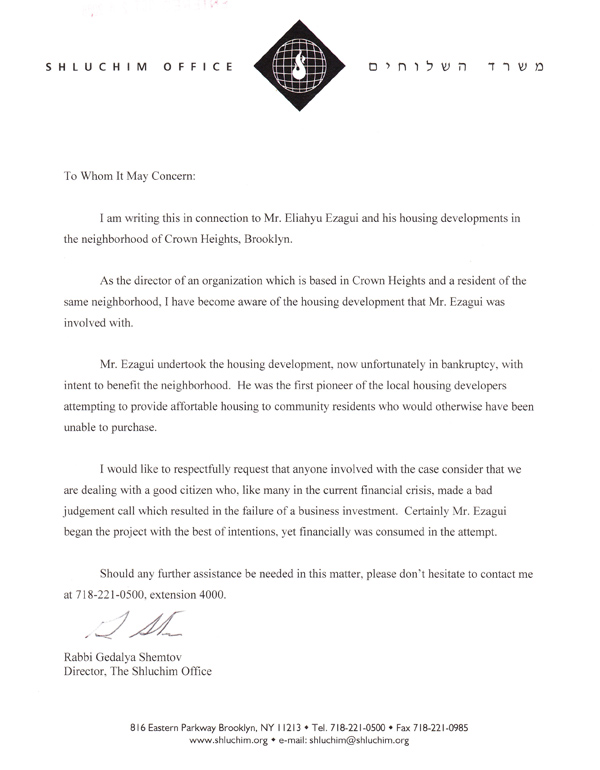 Lubavitcher Yeshiva Academy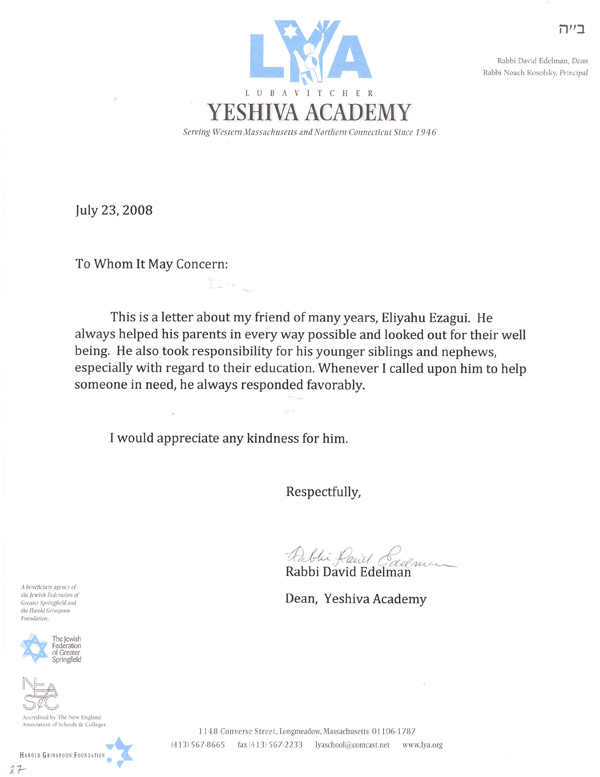 Sholom B. Tenenbaum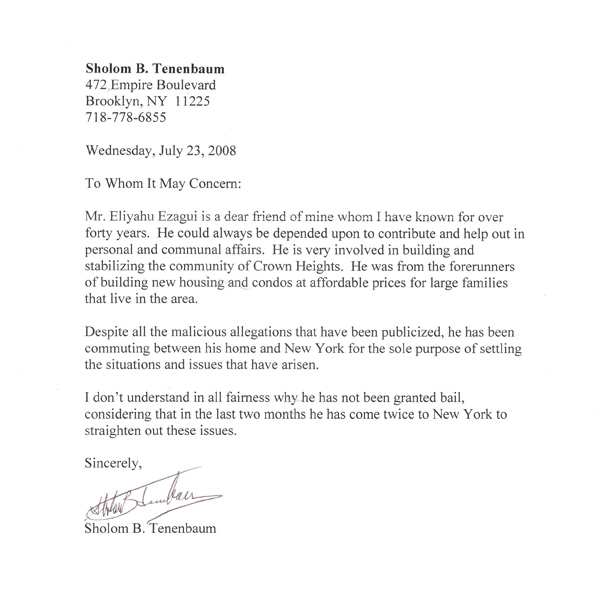 Educational Institute Oholei Torah - Oholei Menachem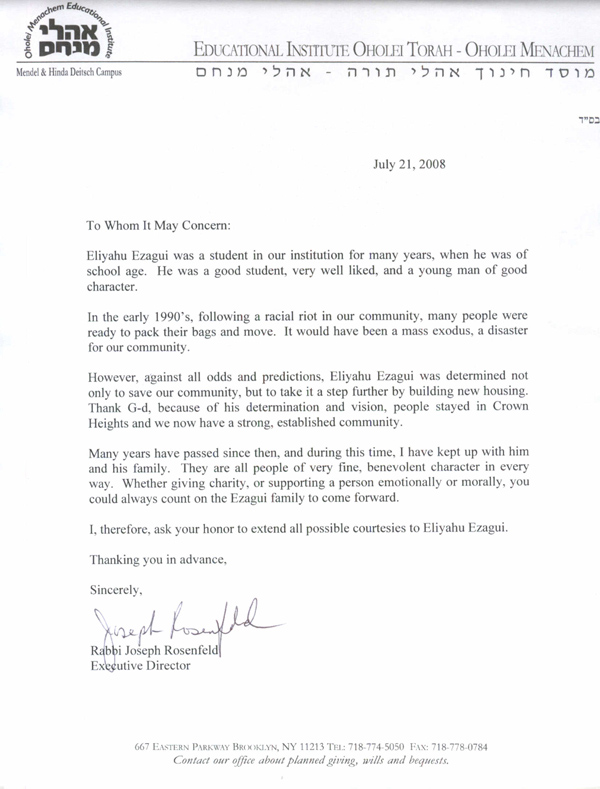 Howard Katz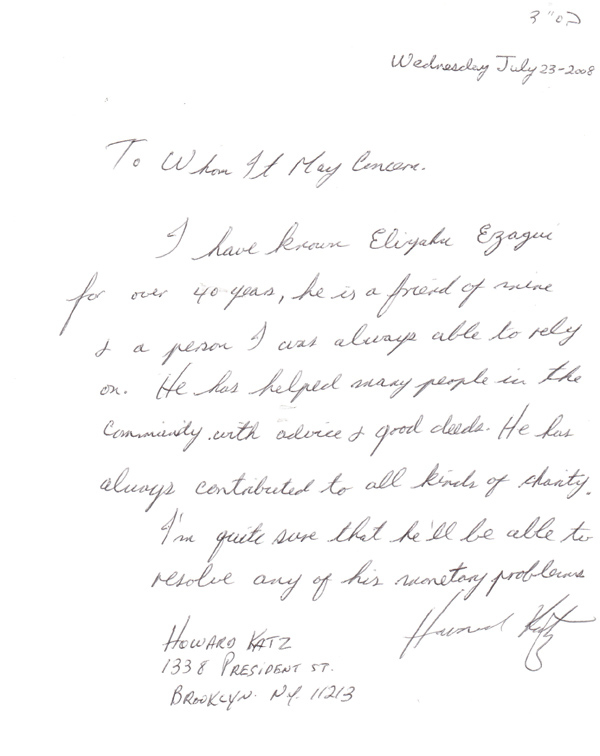 Joseph Katzoff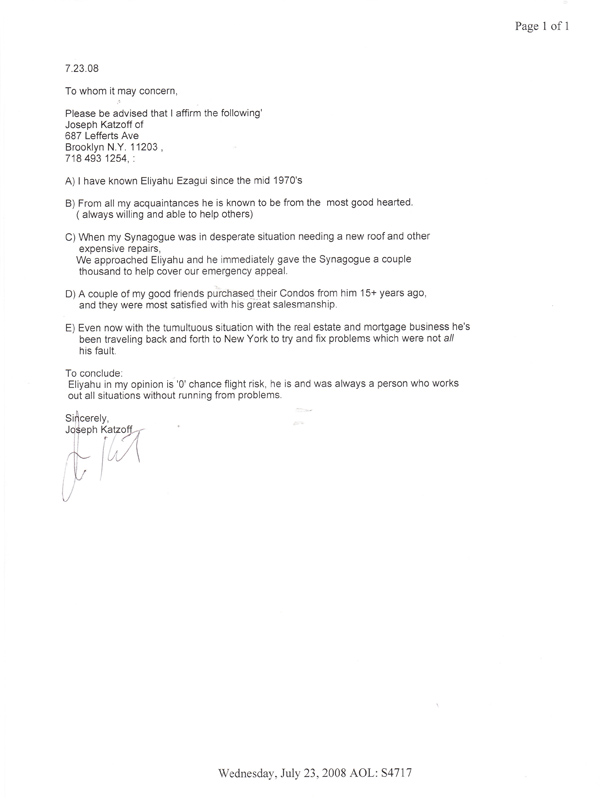 Rabbi Jacob Goldstein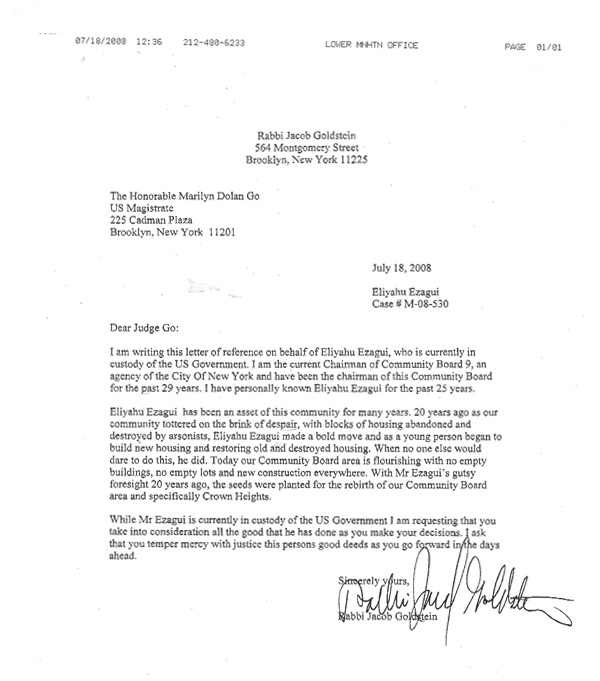 Rabbi Yisroel Hecht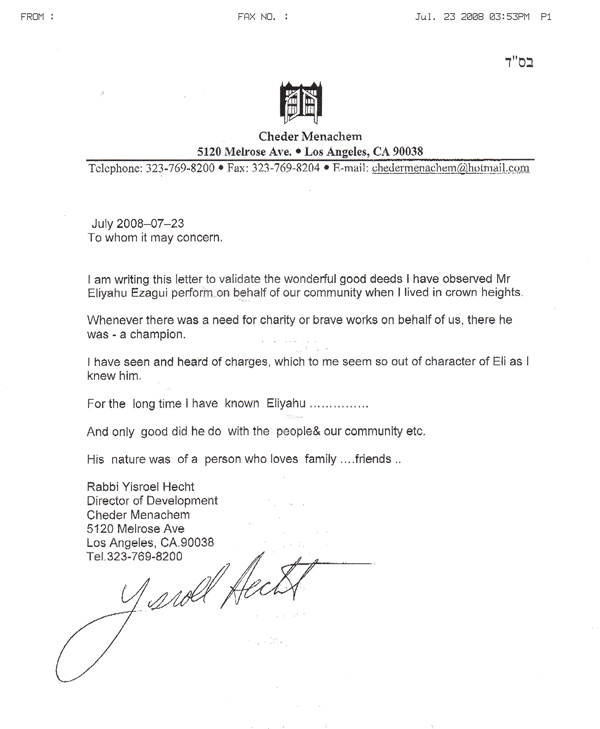 Young Israel of Deerfield Beach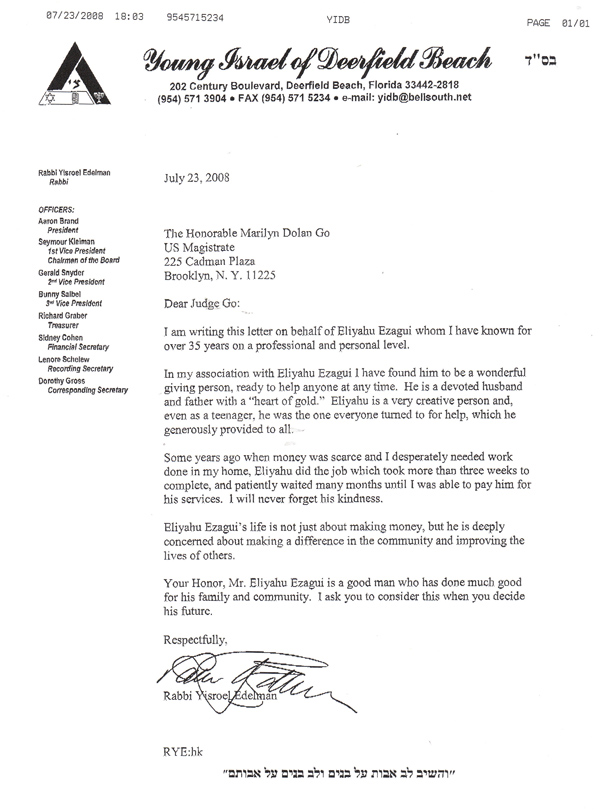 Sam Malamud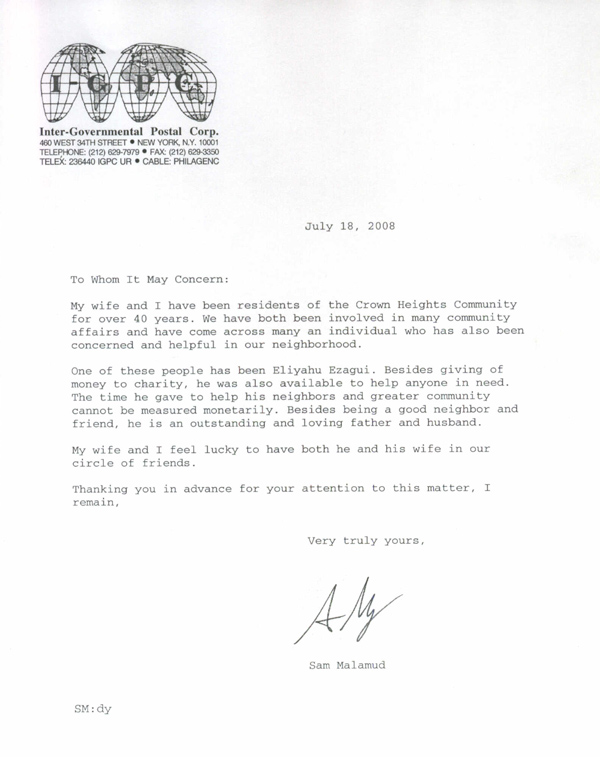 Congregation Ahavas Moische, Inc.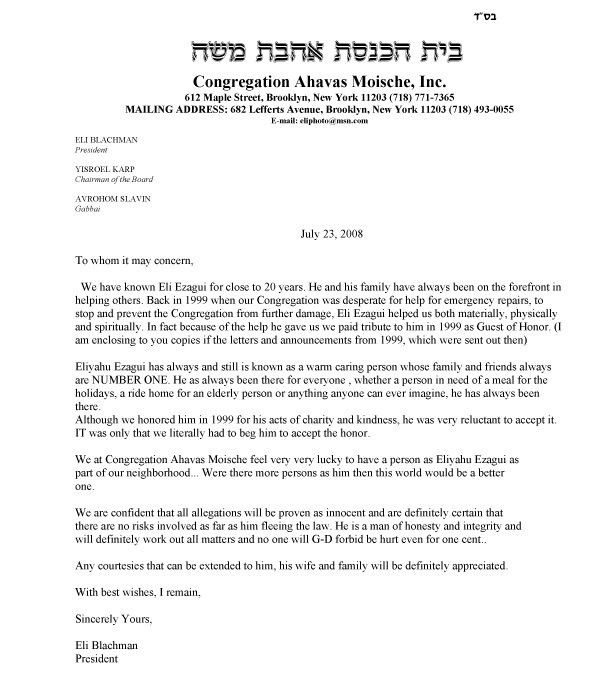 Jonathan Lewis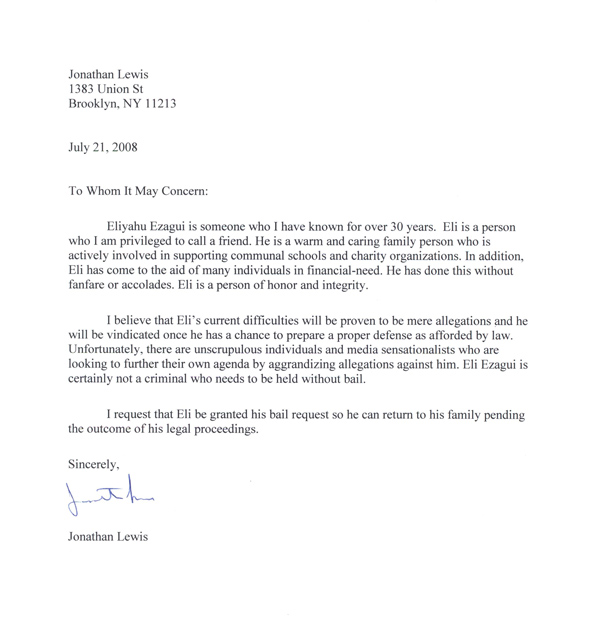 Sheina Ezagui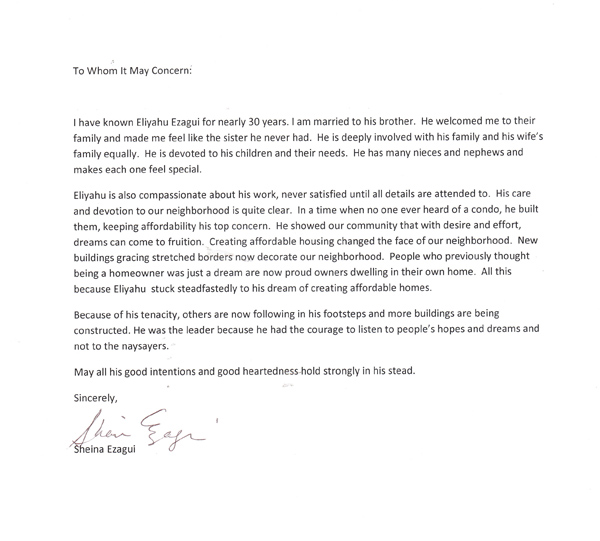 Erwin L Goldstein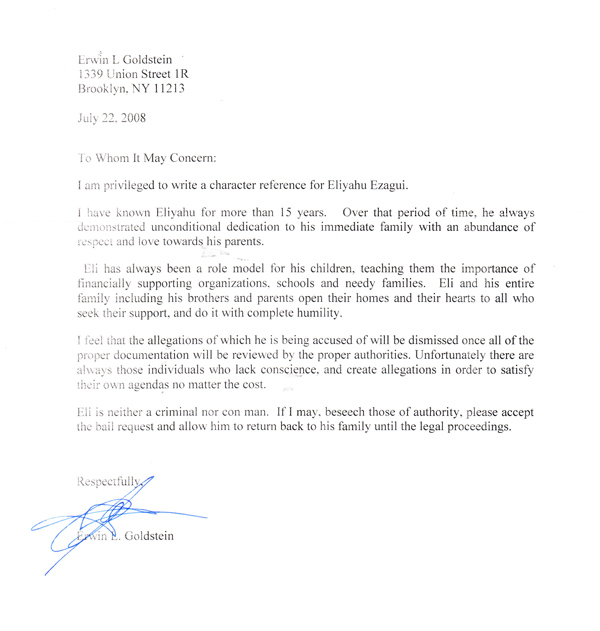 Joseph Mochkin and Zlata Mochkin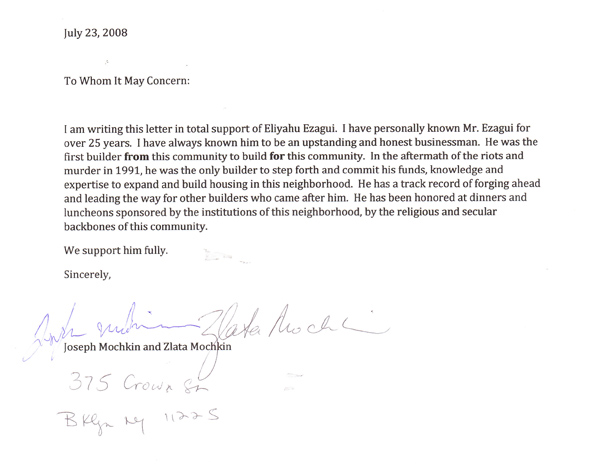 Shalom Mordechai Rubashkin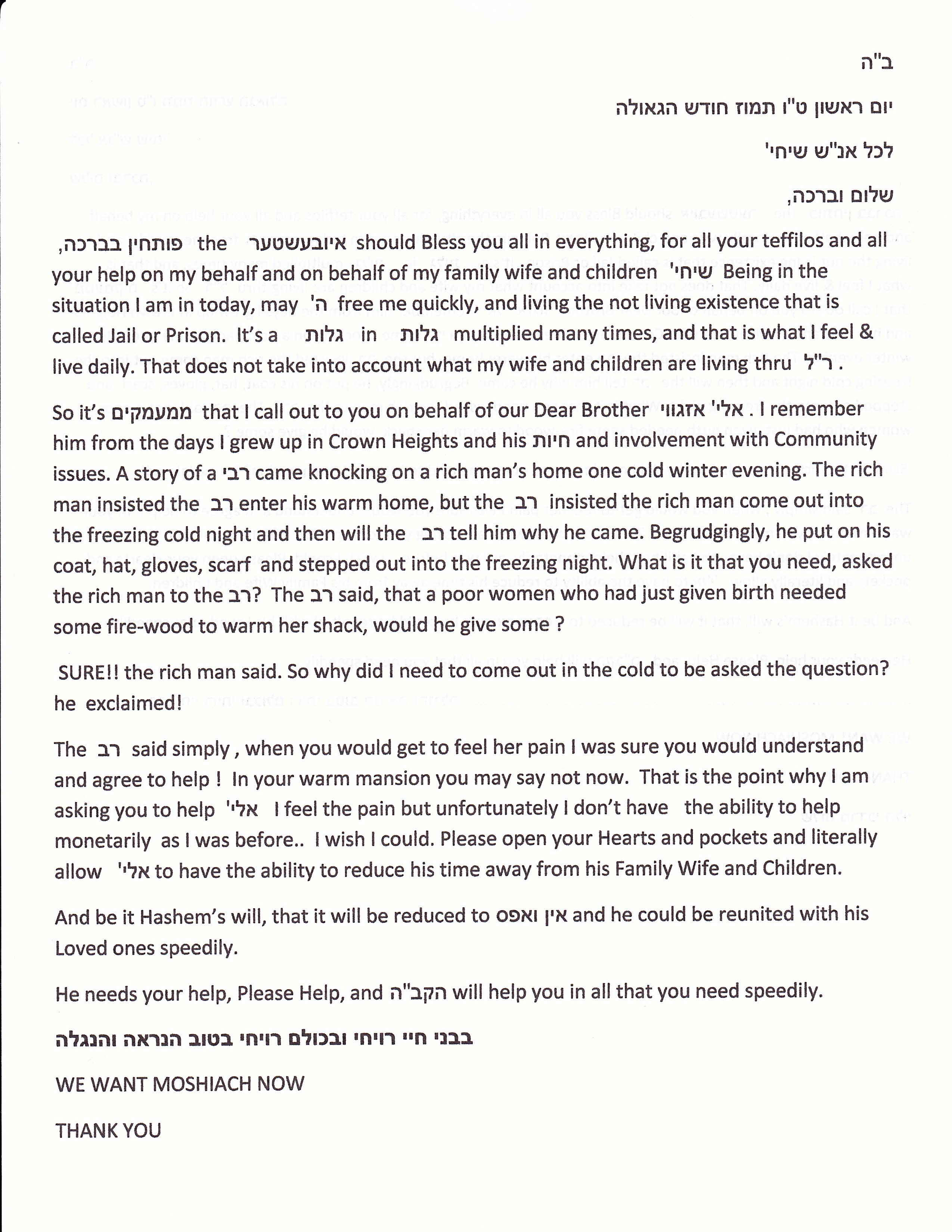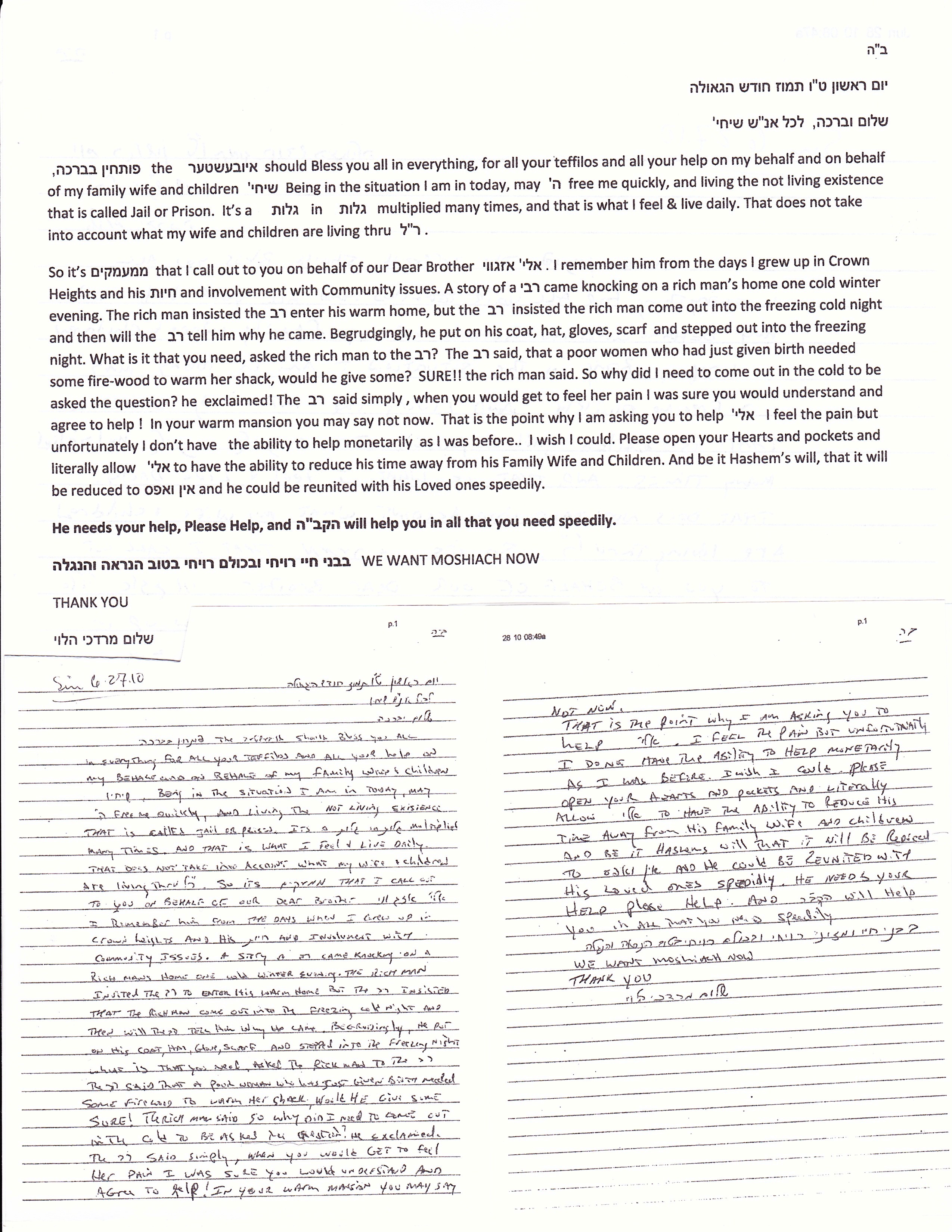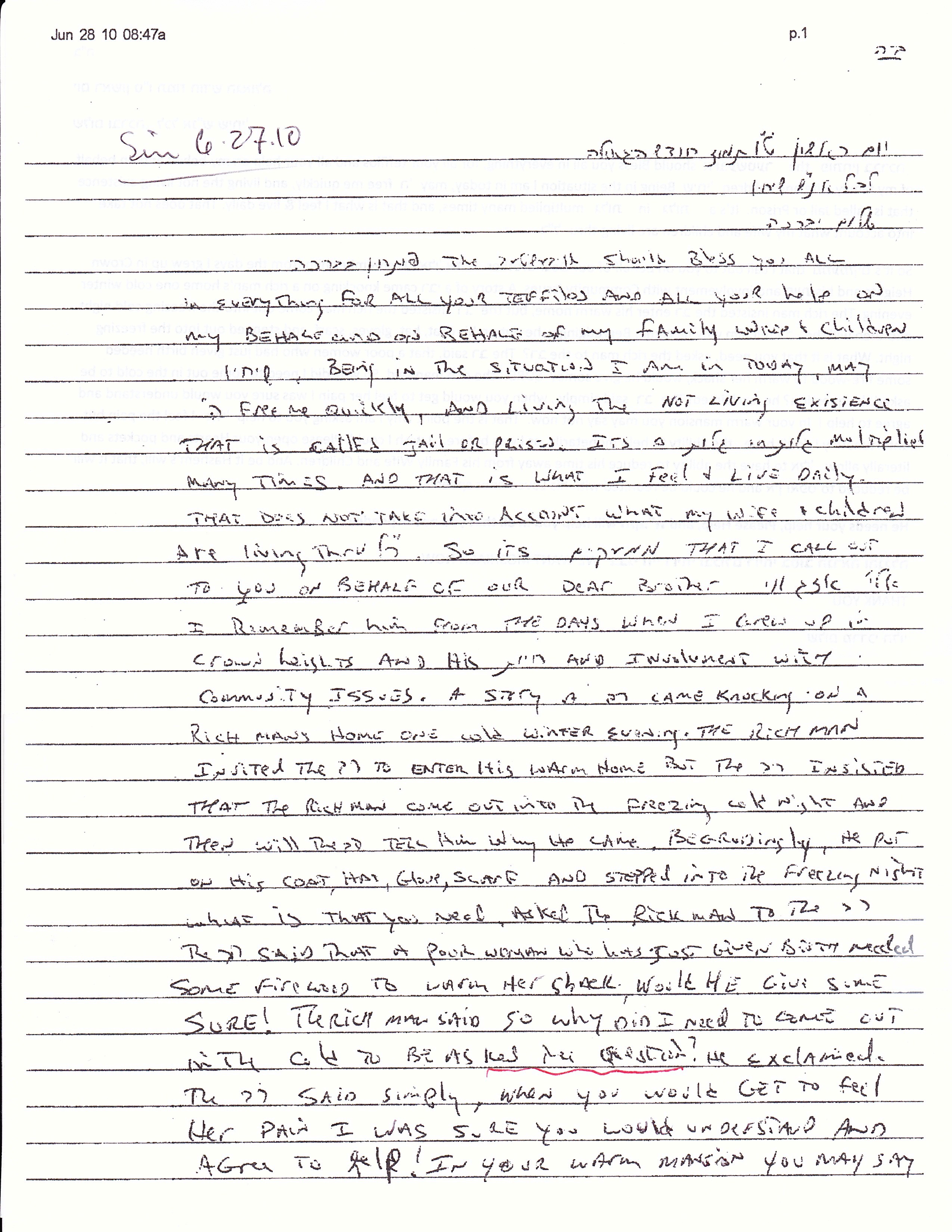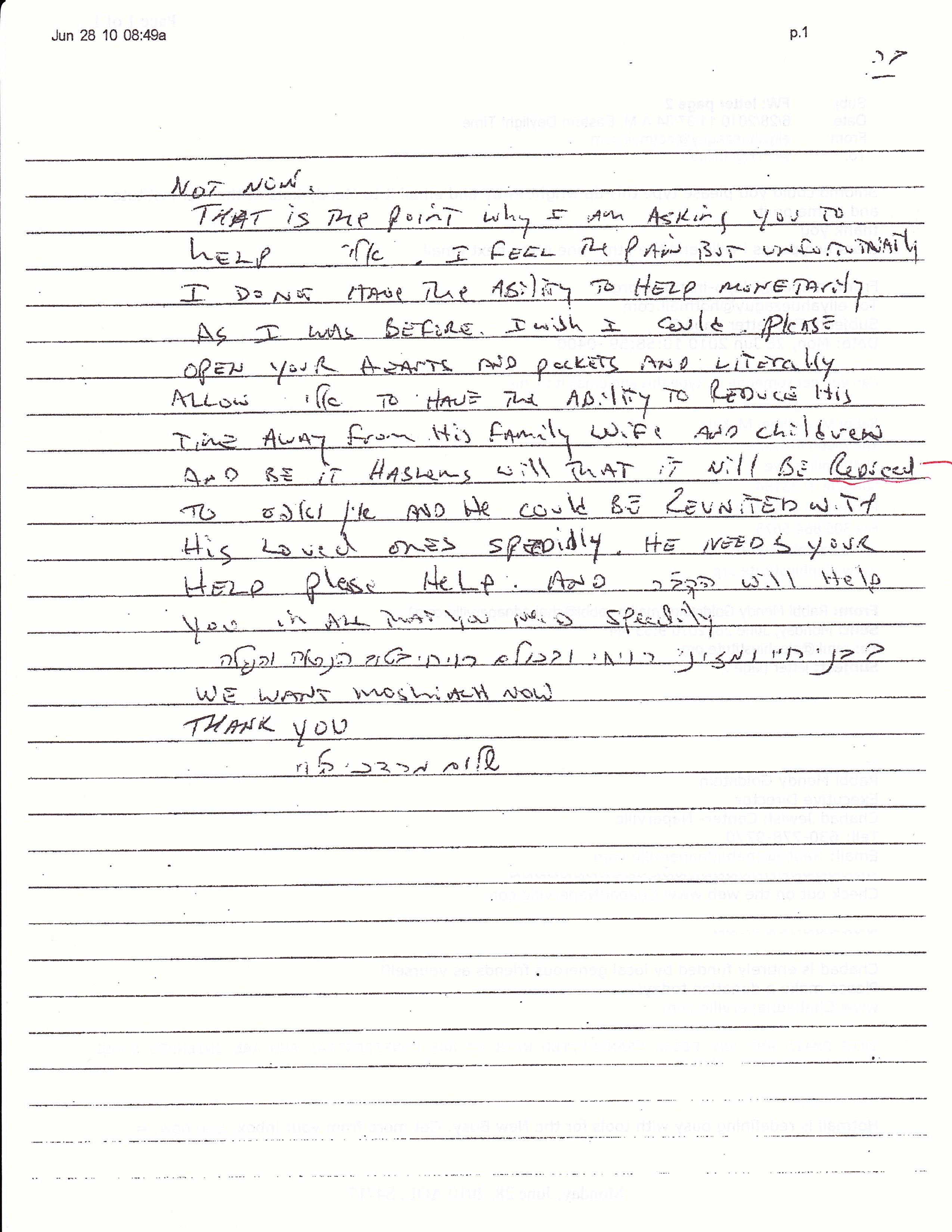 Rabbi Casriel Brusowankin, Aventura Chabad, Florida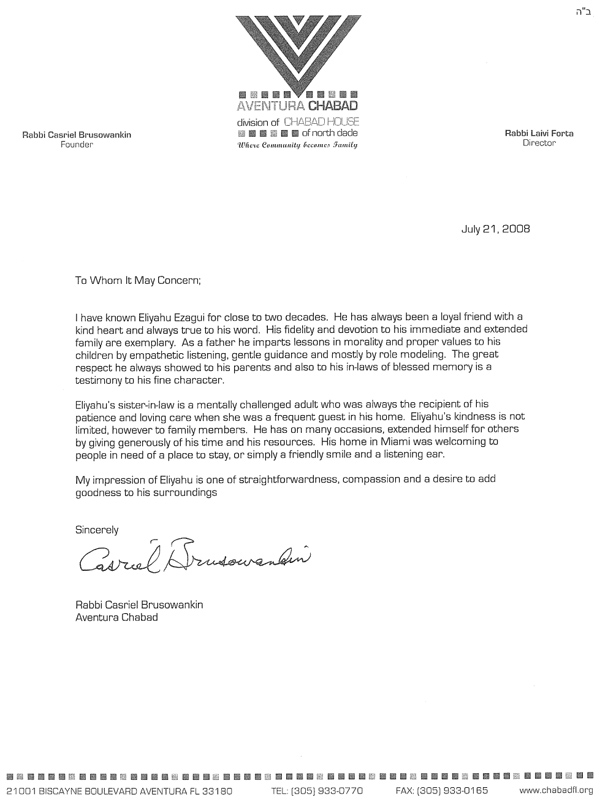 S. Malamud, Crown Heights, New York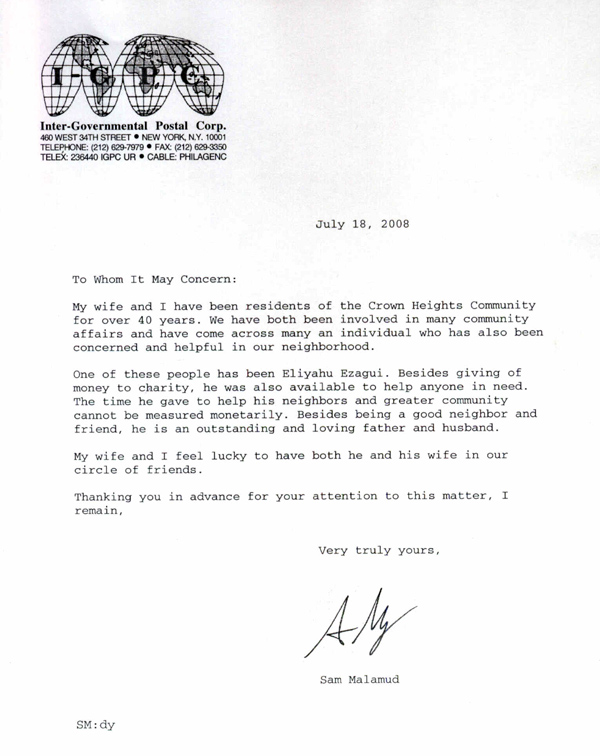 J. Lewis, Brooklyn, NY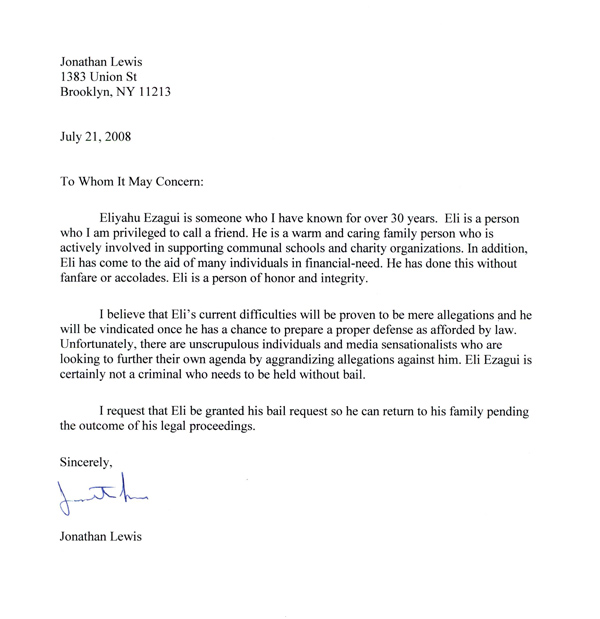 J. Katzoff, Crown Heights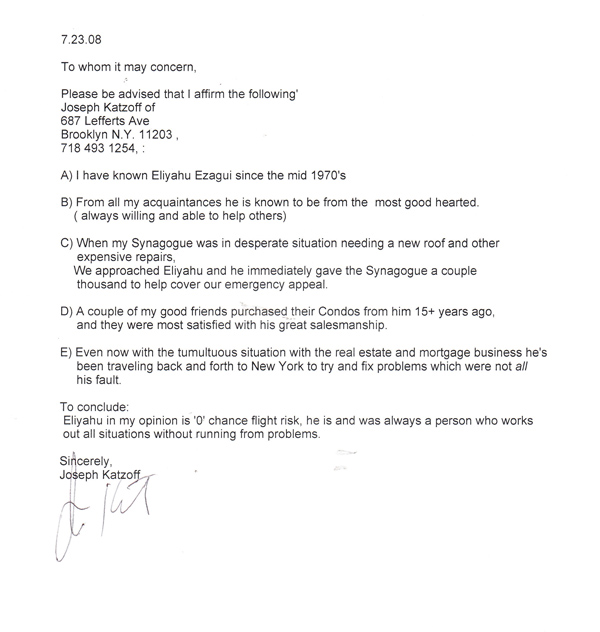 H. Katz, Crown Heights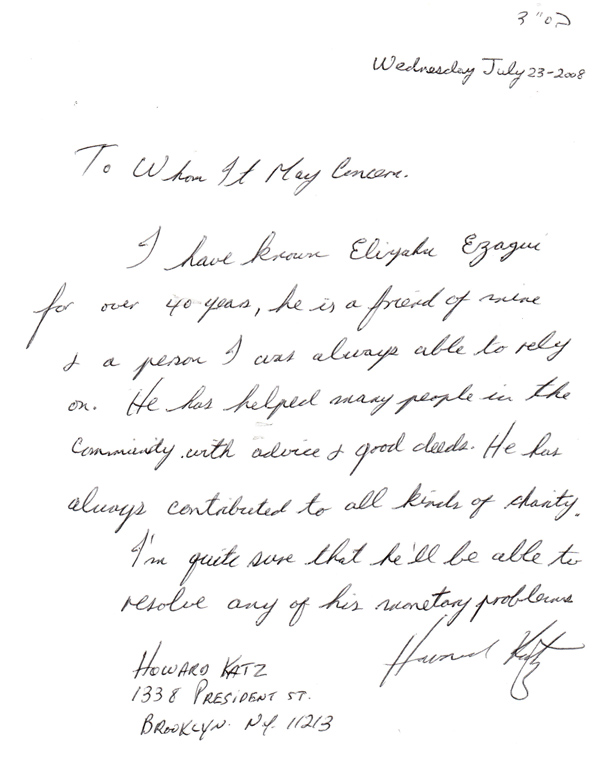 Rabbi Pinchas Ezagui, Chabad of Daytona, Florida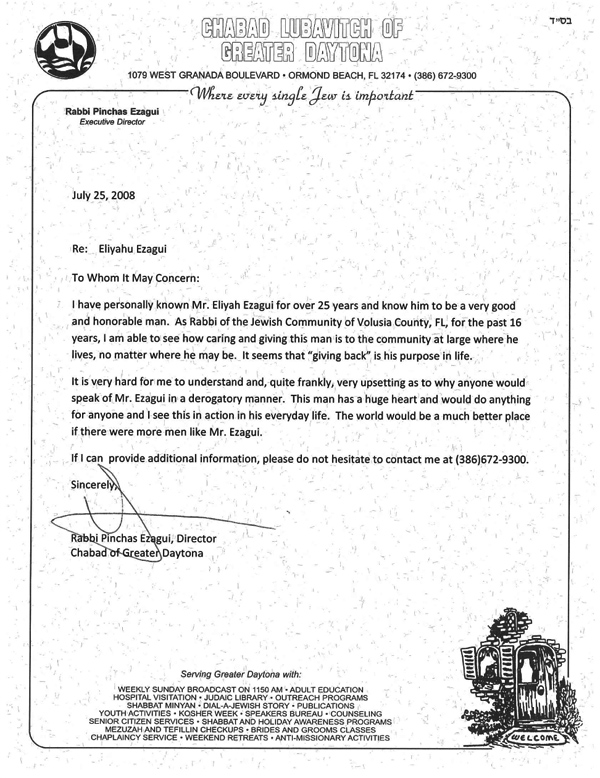 Rabbi Laivi Forta, Aventura, Florida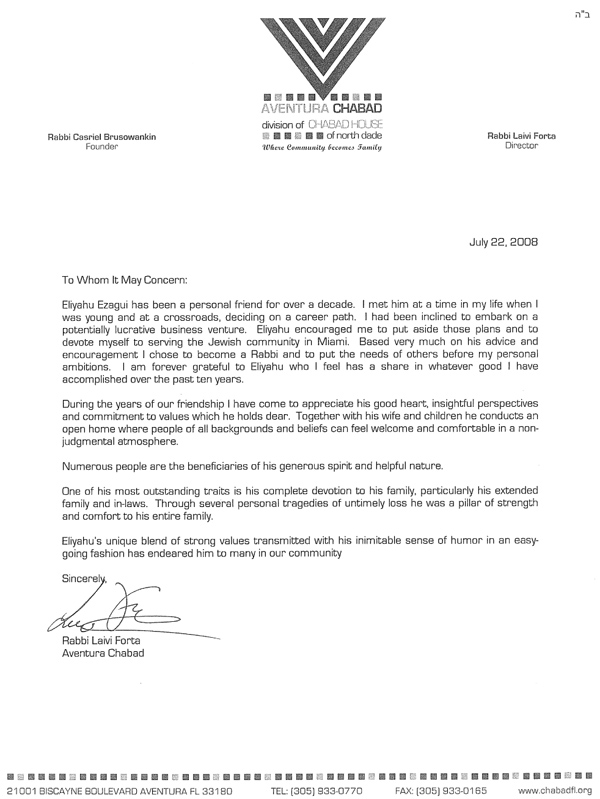 Sara Rivka Ezagui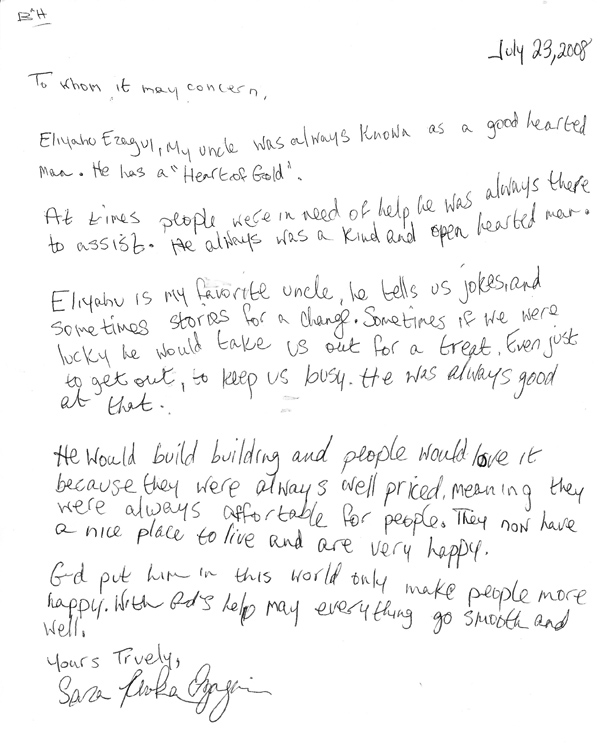 S.B. Tenenbaum, Brooklyn, NY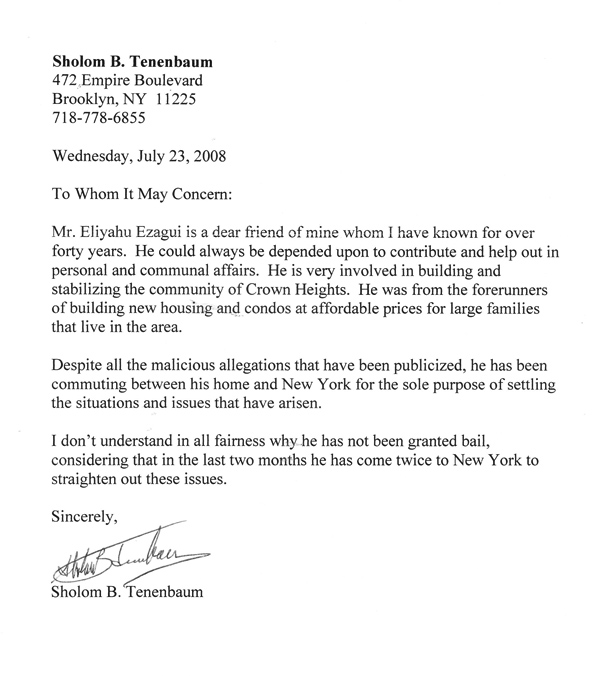 C. Fogel, Jerusalem, Israel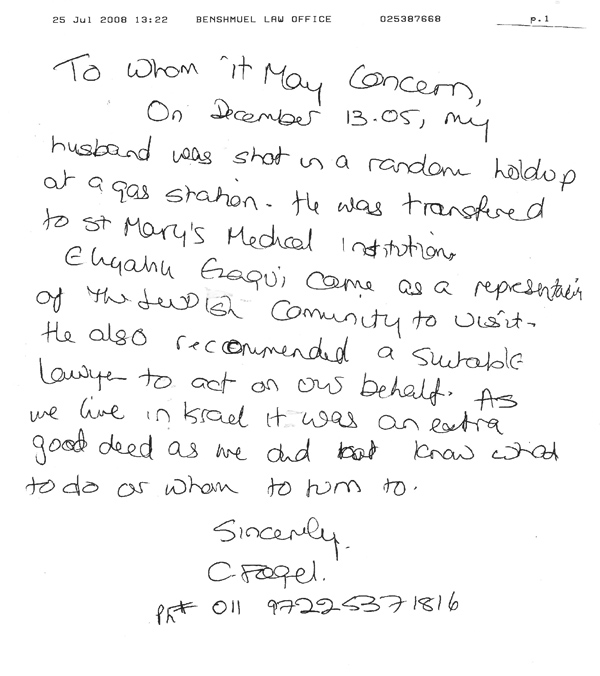 E. Goldstein, Crown Heights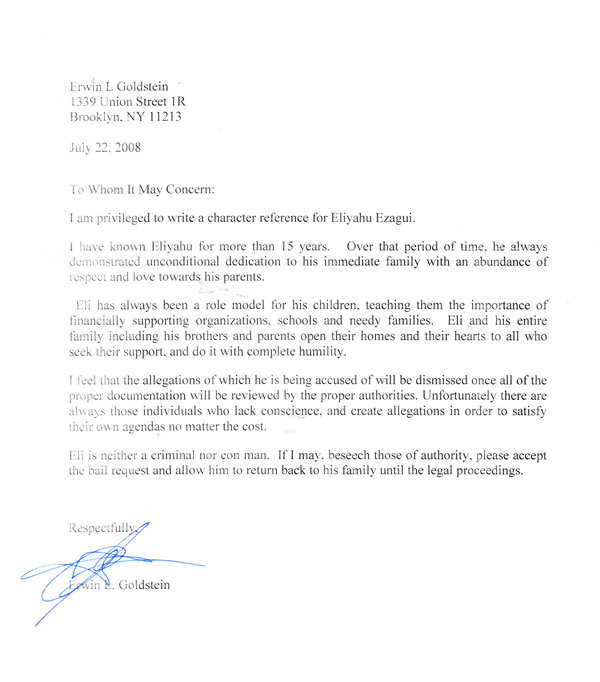 Rabbi Yisroel Edelman, Young Israel, Deerfield Park, Florida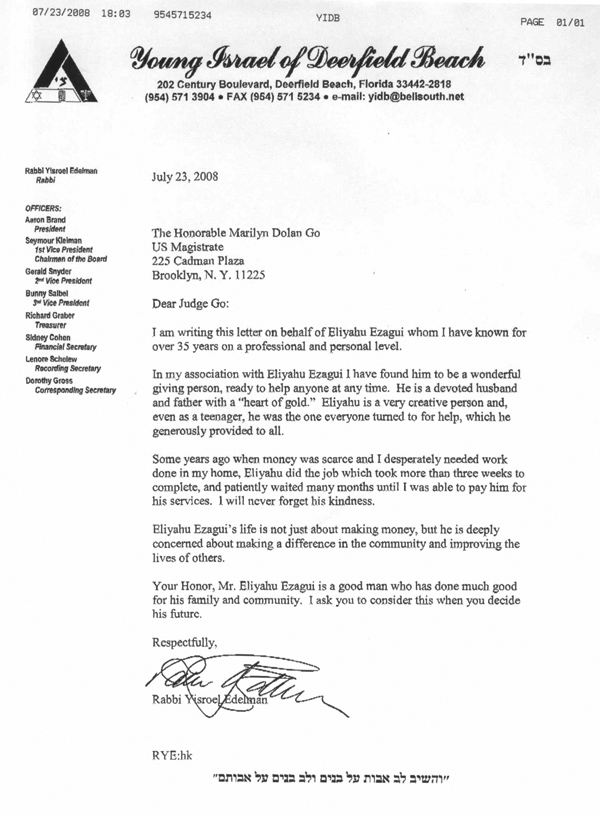 S. Ezagui, Crown Heights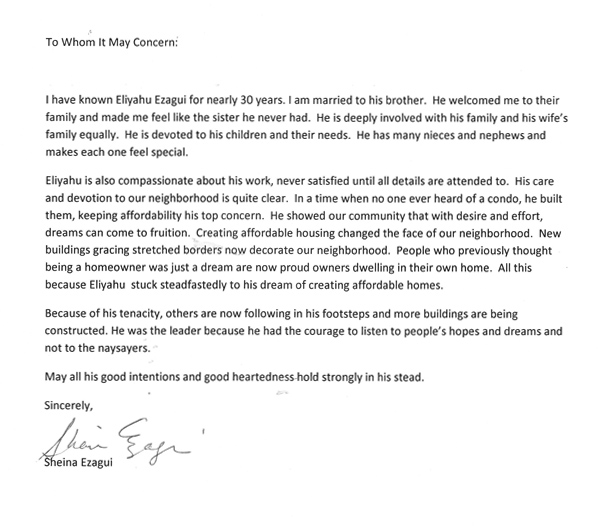 Rabbi S. Ezagui, Palm Beach, Florida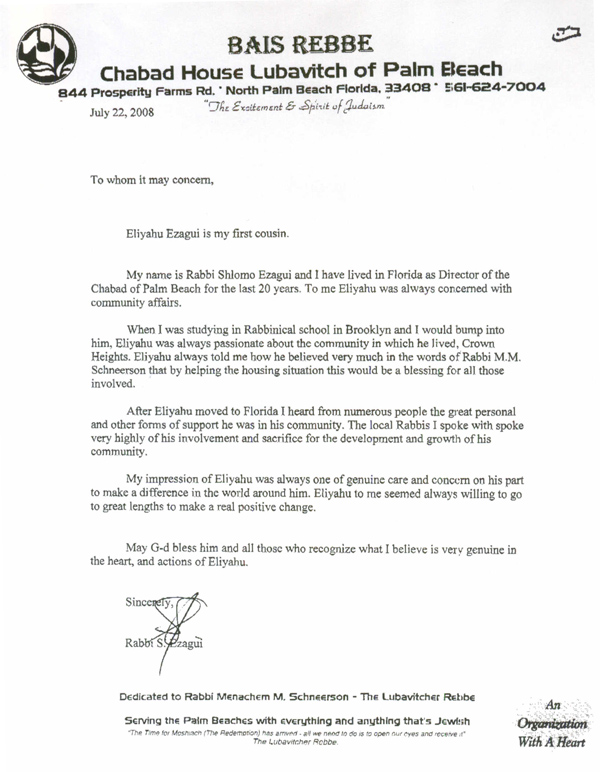 Rabbi D. Edelman, Yeshivah Academy, Longmeadow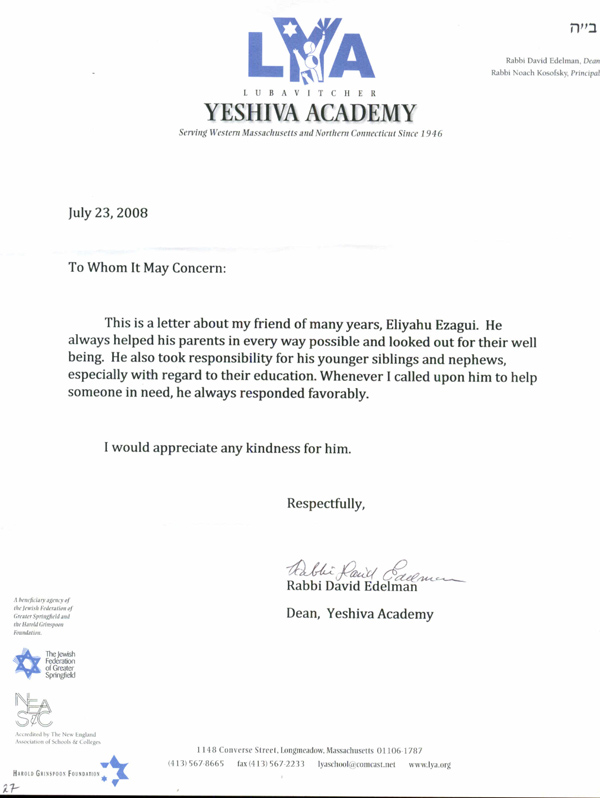 Letter to Lubavitcher Rebbe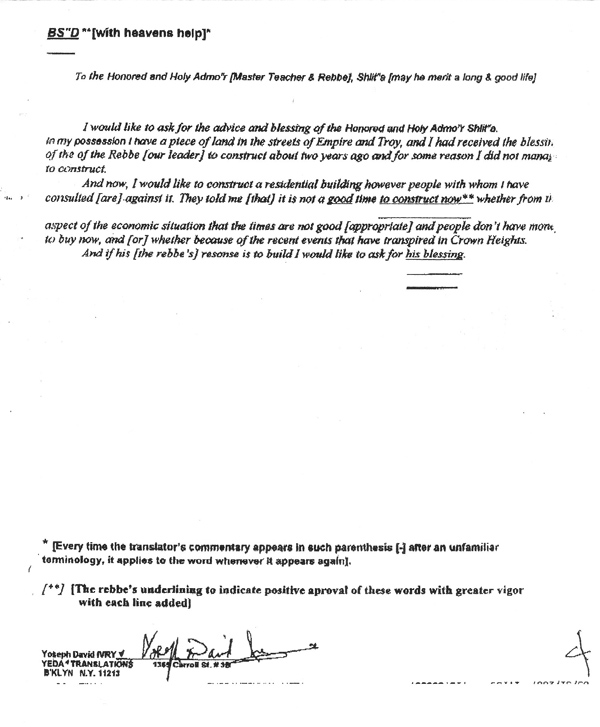 An Inconvenient Truth
Attachment 1 - Source and Use of Funds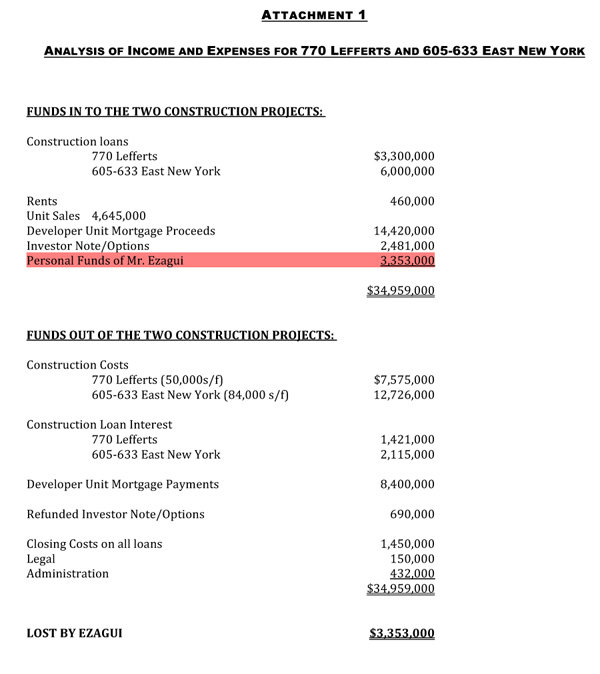 Attachment 2 - Investor Option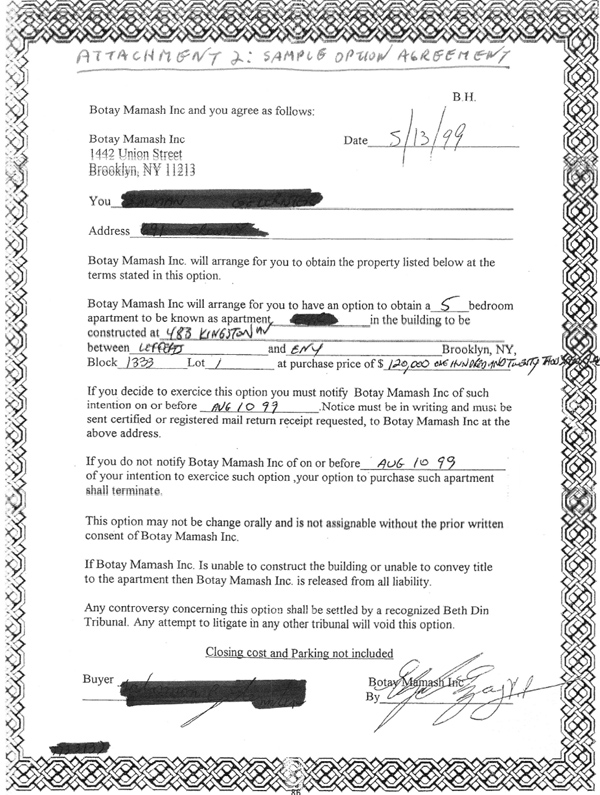 Attachment 3 - Investor Note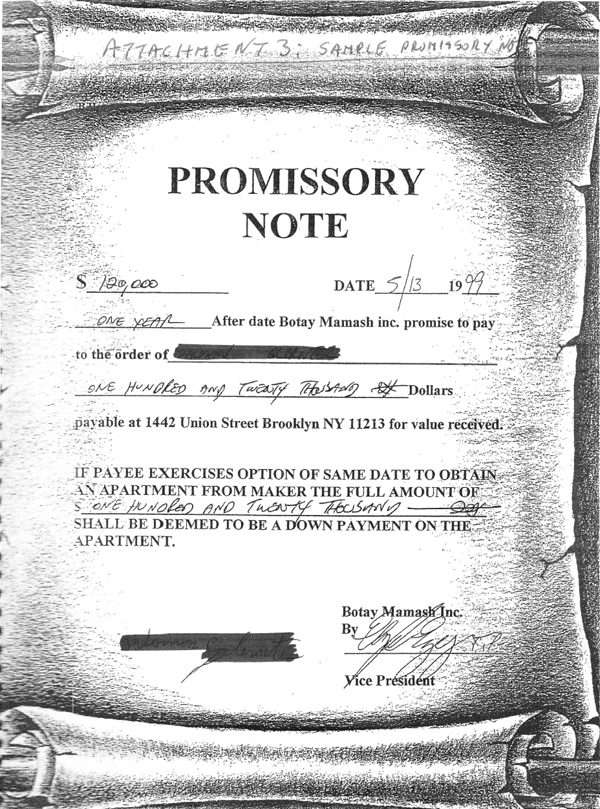 Attachment 4 - Refunds to Investors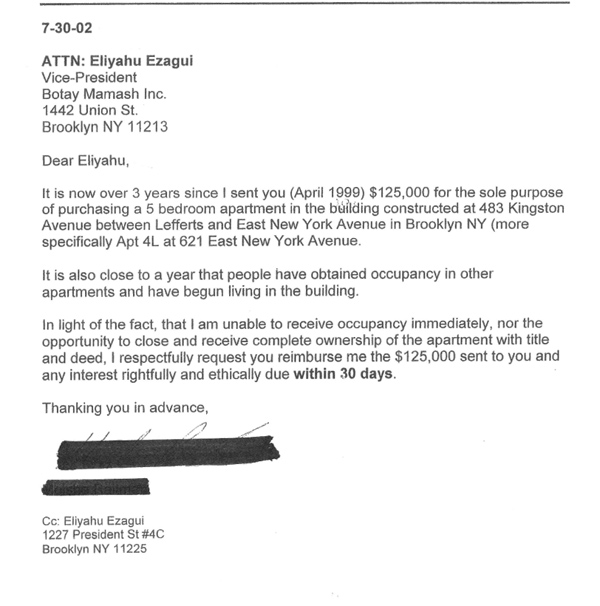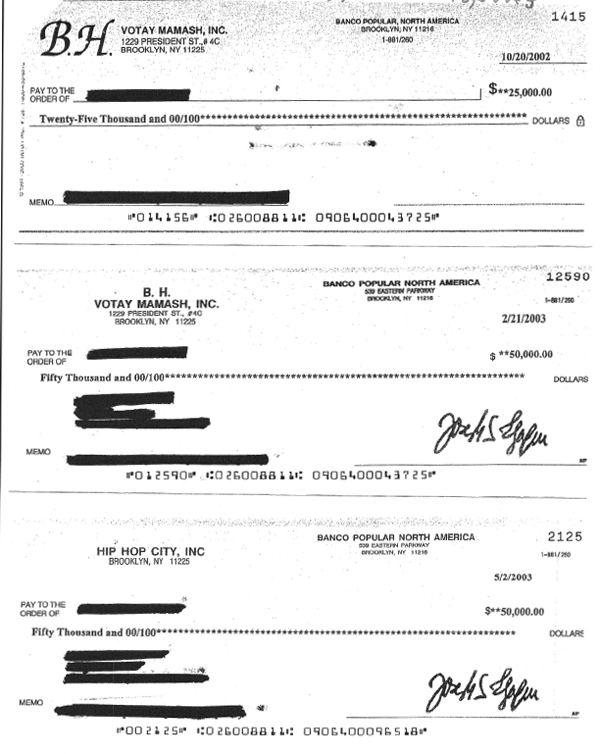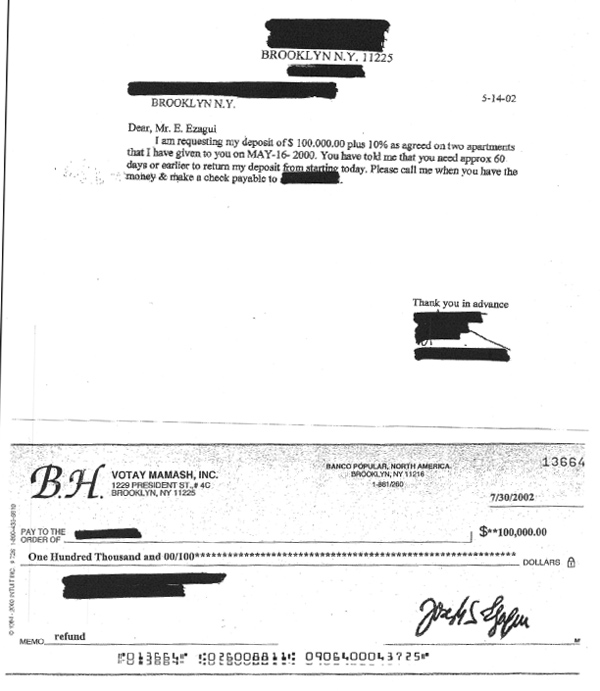 BS"D
Pidyon Shevuim
In our efforts to help fundraise for Eliyahu Ezagui's legal expenses, we have encountered many people with a lot of misinformation about the situation. This is understandable considering how complex the case is. Below is an attempt to clear up some of the misunderstandings.
1. The Rabbonim Consider This a Case of Pidyon Shevuim
Mr. Ezagui is facing criminal court charges and the prosecutors are asking for a 30 year jail sentence if, chas v'sholom, he is convicted. Even if he is guilty (which he is not) of all the things some people think, it is an obligation on us to do what we can to help him avoid any jail time. This is especially true when you consider his wife and children from whom he has been separated for almost a year. A jail sentence would most likely devastate the family beyond repair.
2. Ezagui Did Not Steal From Anyone
The misinformation is that Ezagui took mortgages on other people's property and pocketed the money. This is completely untrue! Here are the facts:
The mortgages Ezagui took were on condominium units that were owned by the developer. They did not belong to anyone else.
The money from the mortgages was used to finance the project and pay off construction loans to keep the project going. In addition, Mr. Ezagui put his whole personal fortune of about $3.3 million dollars in the sinking project and impoverished himself trying to save it.
If you add up the total value of all the funds obtained to complete the projects, $31,606,000, and all the funds that were disbursed on the projects, $34,959,000, there is a difference of $3,353,000. This difference came from Mr. Ezagui's personal money. (See Attachment 1.) He had no legal obligation to use his personal funds. He could have declared the development corporations bankrupt a few years earlier and kept his personal fortune intact.
Of the 120 units he built, he successfully delivered title on 82 units. There are only 23 units (18 individuals) that had unexercised option agreements to buy units. These options were never exercised by these 18 individuals, and so contracts to sell were never negotiated or signed for these 23 units. [See Attachment 2.]
It should be noted that ALL individuals who exercised their option to buy, received their units. They negotiated and signed contracts of sale, the contracts were fulfilled, and title was delivered on their units.
The remaining 15 units are called developer units. No option contract or contract to sell was ever signed for these 15 units.
3. The Criminal Court Case
The charges on Mr. Ezagui are for mortgage fraud: he is charged with saying that he lived in a unit when he applied for the mortgages. There are nine mortgages that he is charged with committing this fraud on. The Federal government has announced that it is asking for 30 years of jail time, if convicted. There are no charges of investor fraud.
4. The Contract with Investors
Each investor's contract may have had slight differences from one to another, because each was written at a different time in the project's construction. However each one consisted of a certain amount of money, for discussion purposes let's say for instance $100,000, loaned to Mr. Ezagui's development corporation. This loan bought the investor an option to buy a completed unit at a deeply discounted price, for instance $100,000. Note that the construction costs alone of each unit were about $165,000. So the agreed upon purchase price, if the investor chose to exercise his option to buy, was way below the market value of the unit.
The loan was typically given before the beginning of the development's construction. If the investor did not wish to exercise his right to buy the unit, he could get repayment of the $100,000 loan (or whatever the actual amount was) on the Promissory Note that Mr. Ezagui's corporation provided for this amount. [See Sample Promissory Note in Attachment 3.] (Note that many investors asked for, and received repayment, of their Promissory Notes. See Attachment 4.)
The idea was that after the development was built, Mr. Ezagui could sell the remaining units at the market price. This would enable him to deliver the units to the investor at the discounted price (if they exercised their option), and still make a certain amount of profit for himself.
5. Financing the Development, the Bankruptcy and the Civil Court Case
In addition to the money that investors gave him at the beginning of the project, Mr. Ezagui also took a construction loan, at a relatively high interest rate. Each month, Ezagui had to pay the carrying costs of the project: taxes, utilities, construction costs, interest on the construction loan, etc. After the units were built, there were also condominium maintenance costs on each unit.
In order to pay the monthly carrying charges, the development took out mortgages on the unsold developer units. The lending corporations, the banks, were aware that they were developer units. These are called 'developer mortgages'. In the industry this is known as 'bridge financing'.
At some point, after nearly six years of paying the carrying charges, including the monthly mortgage bills, the 18 investors sued Mr. Ezagui, freezing all his assets and causing him to default on the mortgages. The whole project then collapsed and went bankrupt. Note that the 18 investors who had option contracts (that were not exercised) took Mr. Ezagui to court not to recoup the money they had loaned him, but rather to obtain Title to the condominium units that they had never purchased.
Although Mr. Ezagui did not repay the Promissory Notes directly to these 18 investors, each of the investors made (and are still making) handsome returns on their loan. Each one of them either lived in a unit rent free, or rented out a unit to others and collected the rent with Mr. Ezagui's permission. (Suppose a fair rental value of at least $1,800 - $2,500 per month, and an occupancy of anywhere from 6 ½ years to over 10 years.) In point of fact, they are still living there rent free or collecting these rents, and have been continuing to collect this money even for the last three years since the projects went bankrupt.
So the investors were repaid many more times the value of their loan long before they ever filed suit in Court to obtain Title to condominium units that they never purchased. This may be an inconvenient truth, but it is a fact, nevertheless.
6. The Criminal Court Case
Several years into the civil court case, Mr. Ezagui was arrested on Federal criminal charges for mortgage fraud, as detailed above. Although it is not clear where the criminal charges came from, we know where it did not come from: the Banks. The misconception that the Banks filed charges against Ezagui is absolutely wrong. The Banks have made it clear that they have no criminal complaints against Mr. Ezagui, and they do not believe he deserves any jail time.
7. Delivering Title to the Investors Who Exercised Their Options
One of the complaints we have heard from some of the people who actually purchased condominium units, is that Mr. Ezagui did not turn over the Title of the units to them when he should have. Before the sale was completed they went to Beis Din because they felt cheated. It is therefore important to understand this issue in detail.
When the investors signed the "option to buy" contract they understood that the Title to the unit could not be turned over right away. They knew, for instance that a unit cannot legally be sold before it is built. They also understood that it cannot be sold until there is a "certificate of occupancy" that shows it passed government building inspection. They may also have known that a condominium development has a legal requirement that a certain percentage of condominium units in a building must be in contract before any units can be sold or occupied.
What some of the investors apparently did not understand, however, was that Mr. Ezagui had another requirement before he could turn over the Title of a unit to them - he had to pay off the construction mortgages that he had taken out on the units to finance the project. He also had to get releases for each unit, one by one, as is normal in the industry. (See Section 5.)
So here is the disconnect. From the point of view of the investor-purchaser, if Mr. Ezagui turned over the Title of any of the units he must have fulfilled the legal requirements, and he should have been able to turn over all the other Titles as well. So when they heard that he gave Title to any of the other investors, they felt cheated when they did not get Title to their own unit at the same time.
However, from Mr. Ezagui's view, he also had to pay off the construction loan he took on a unit before he could close and deliver Title. He could only pay off and release one unit at a time, so he could only deliver Title to one unit at a time. When he sold another unit and paid off a part of the construction loan, he could get the release of a unit or two, and he could then deliver those Titles. Then he would work on the next unit, and so on, until they would all be delivered.
It is important to emphasize that every unit for which there was a sales contract signed, was delivered to its buyer. The people who are in civil Court with Mr. Ezagui never negotiated a sales contract with him. They have Promissory Notes which were not repaid. On the other hand, they lived in units rent-free, or collected rents, the value of which amounts to more than the value of the Promissory Notes. As noted above, they are still living rent-free, or collecting these rents.
Summary
We have attempted to clear up some of the common misconceptions surrounding the Ezagui Court Cases. Many of the investors who are in Court with Mr. Ezagui may not appreciate our presentation of these facts. They would certainly prefer to look at things in a way that enables them to justify their actions. But the truth is the truth, and we hope that it will help to bring a resolution to the serious situation that is threatening the Ezagui family.

Pidyon Shevuim
Federal Indictment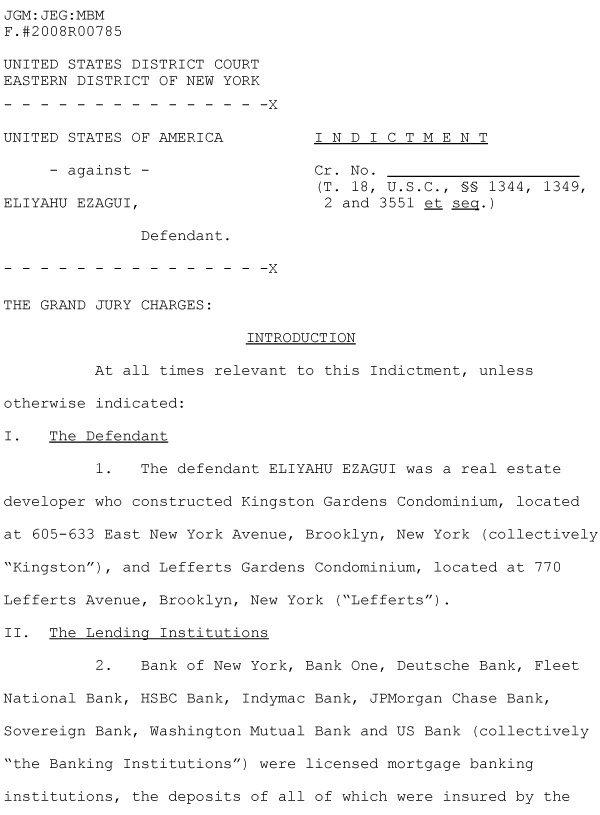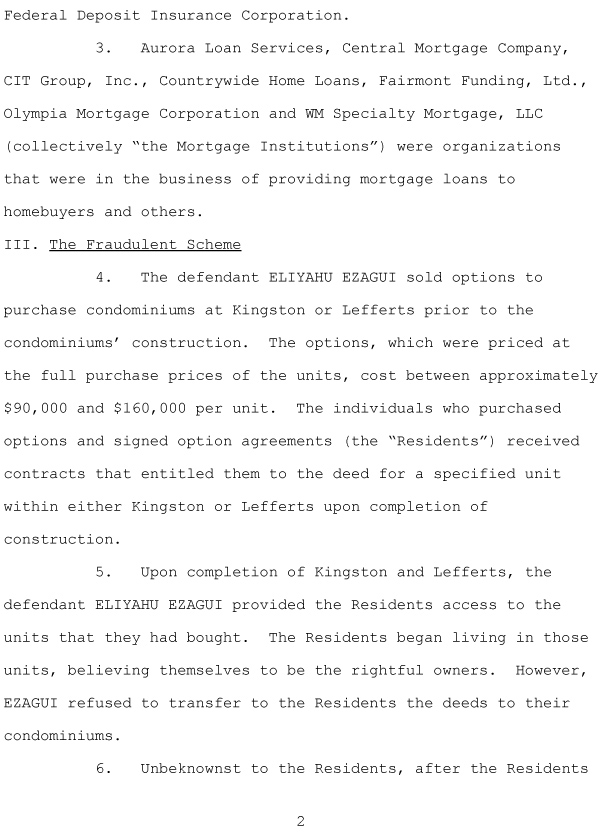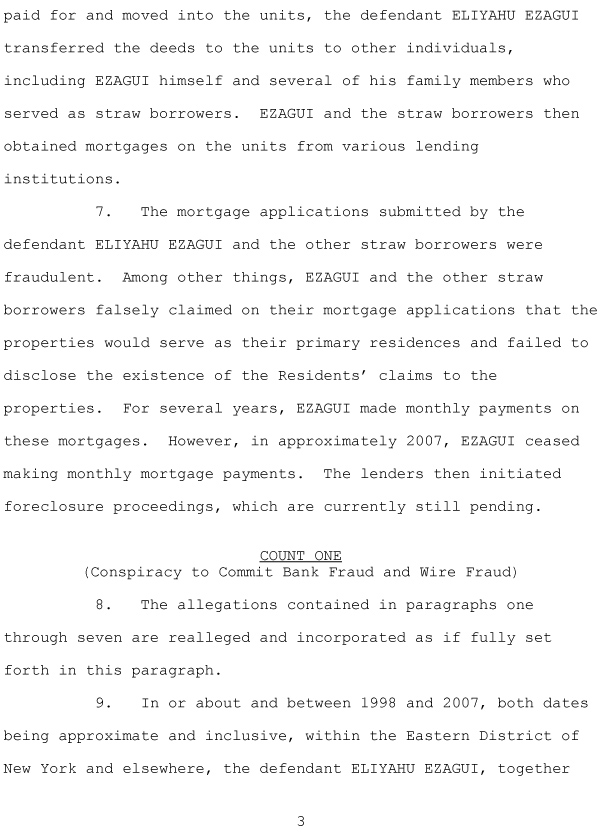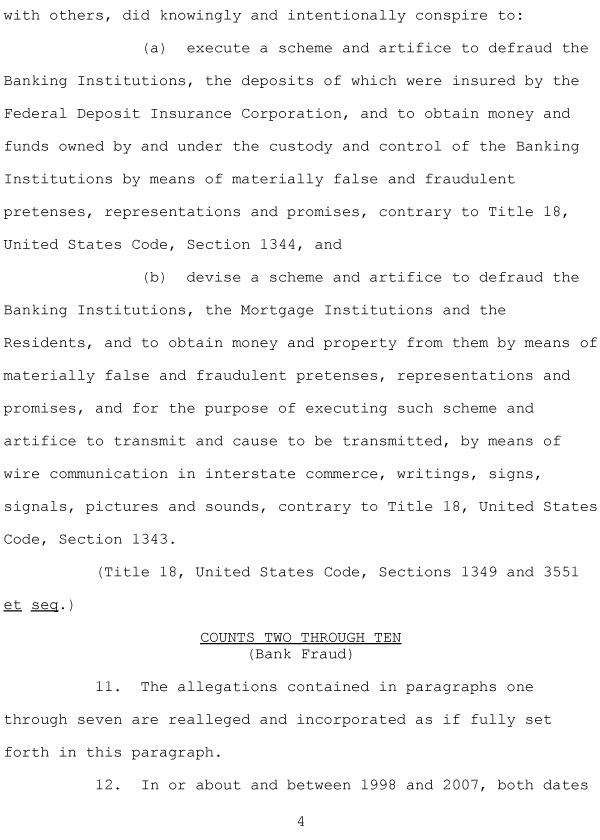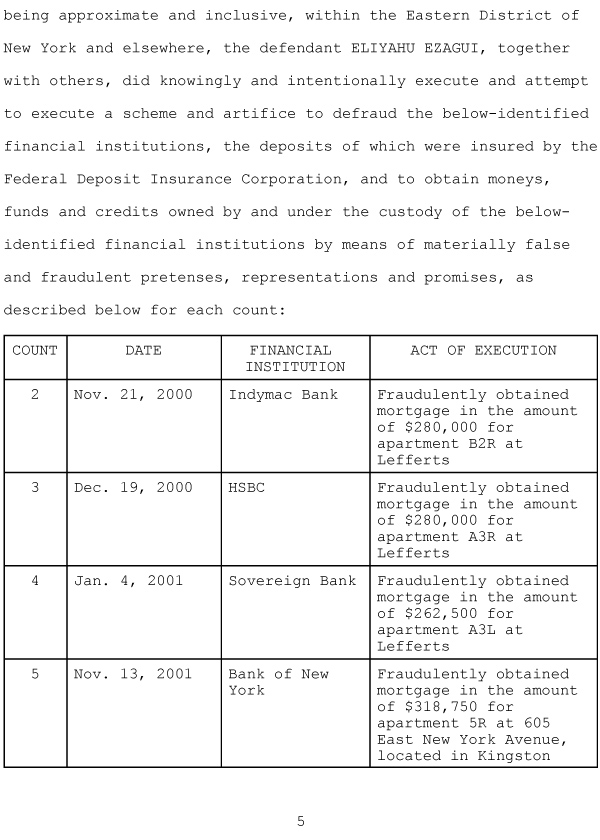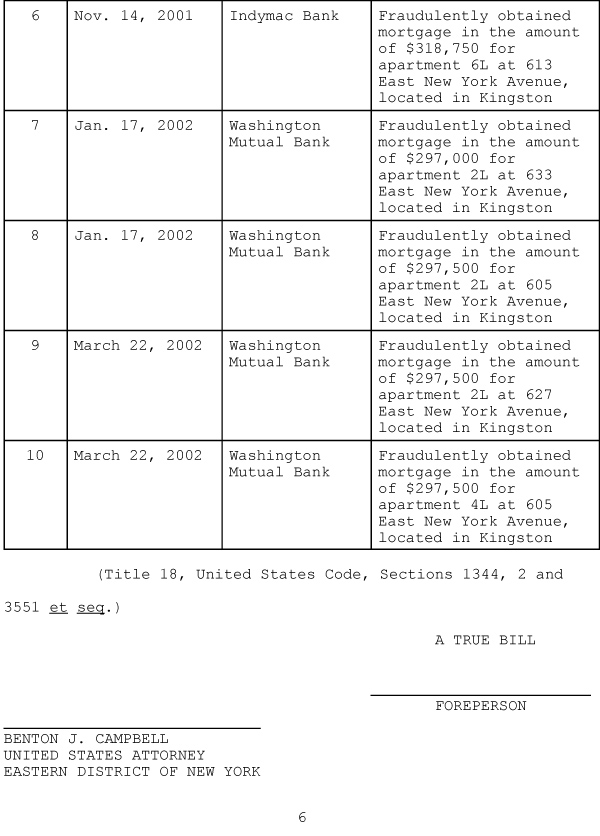 Press Release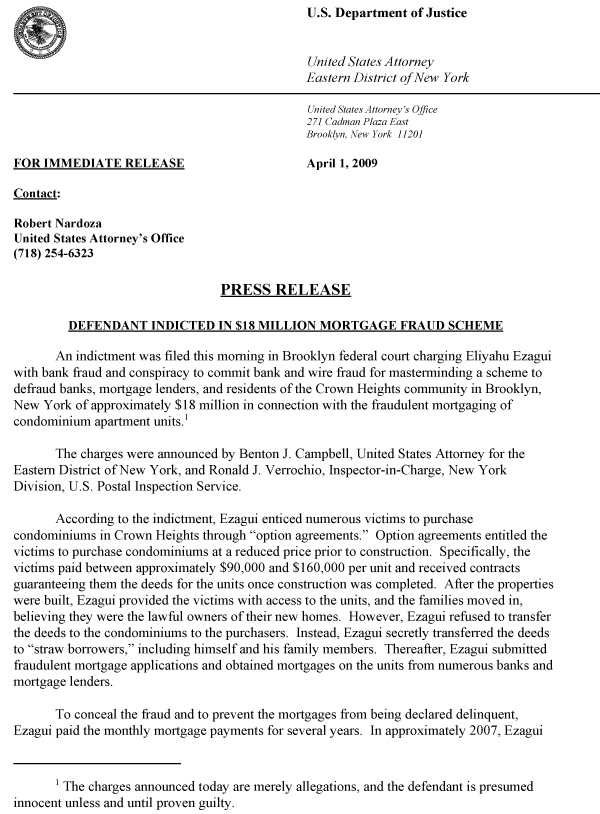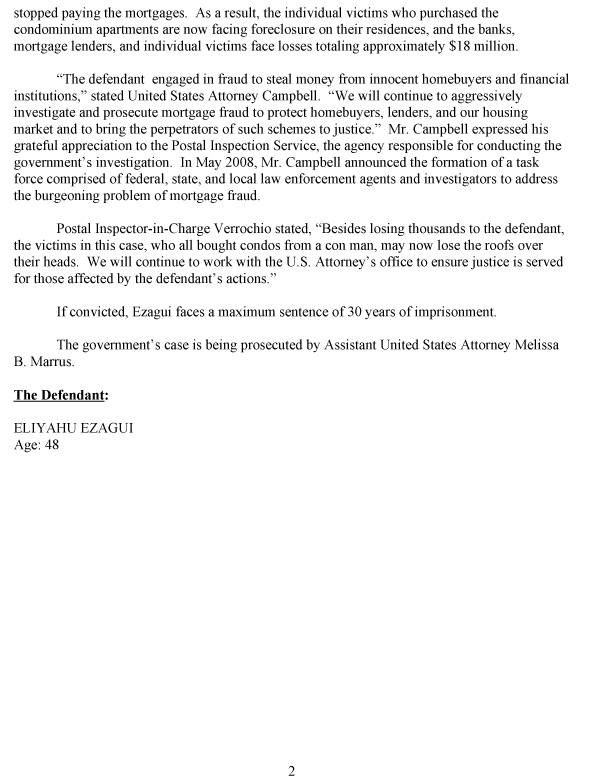 Tolchin's Engagement Letter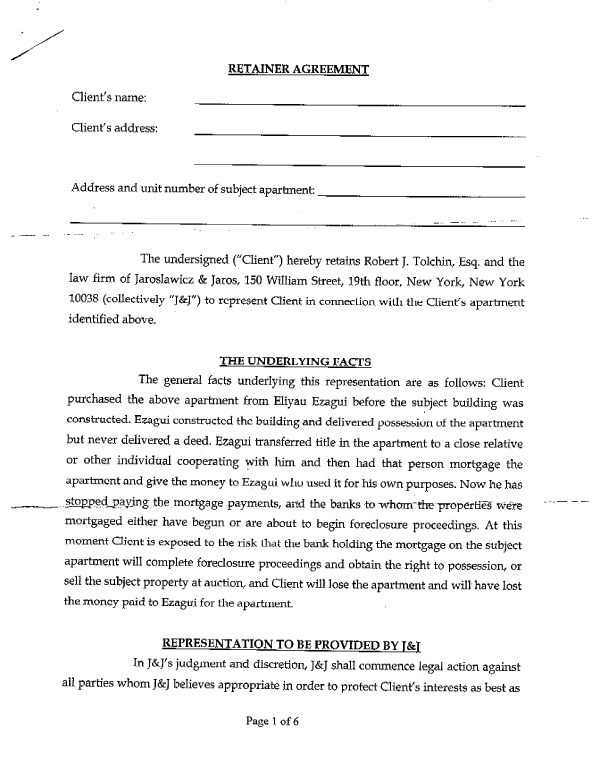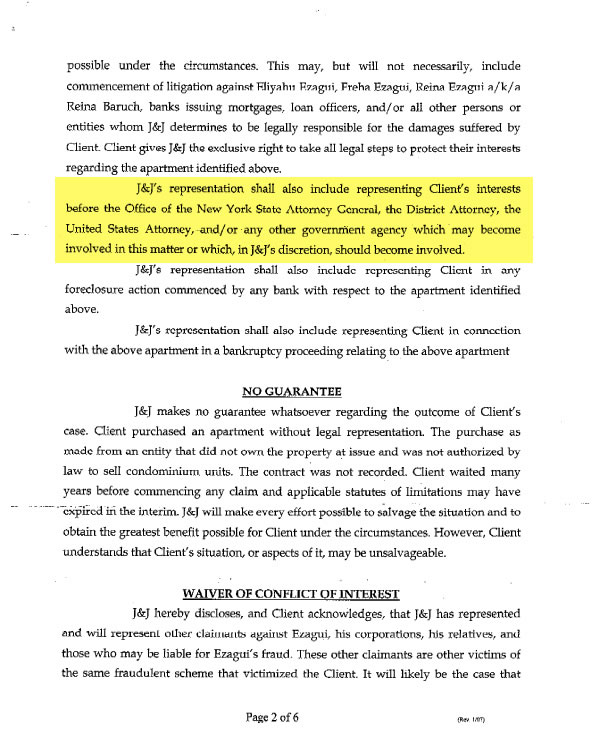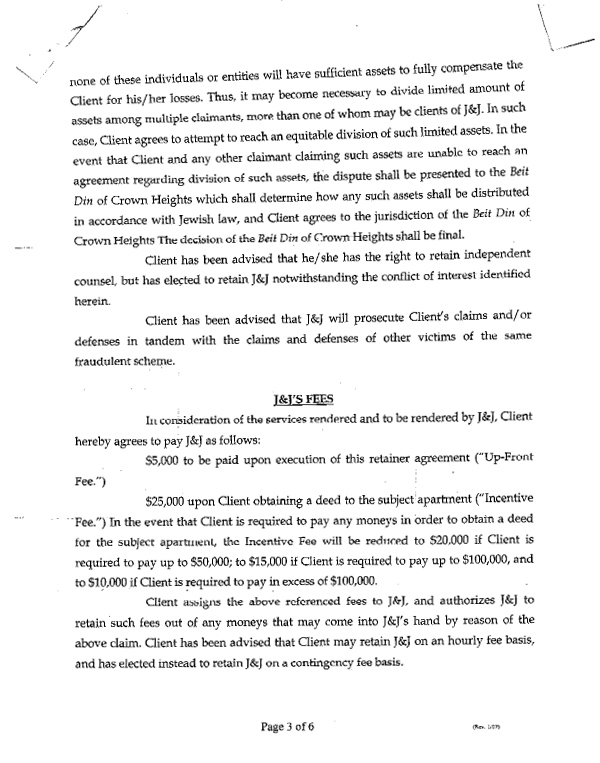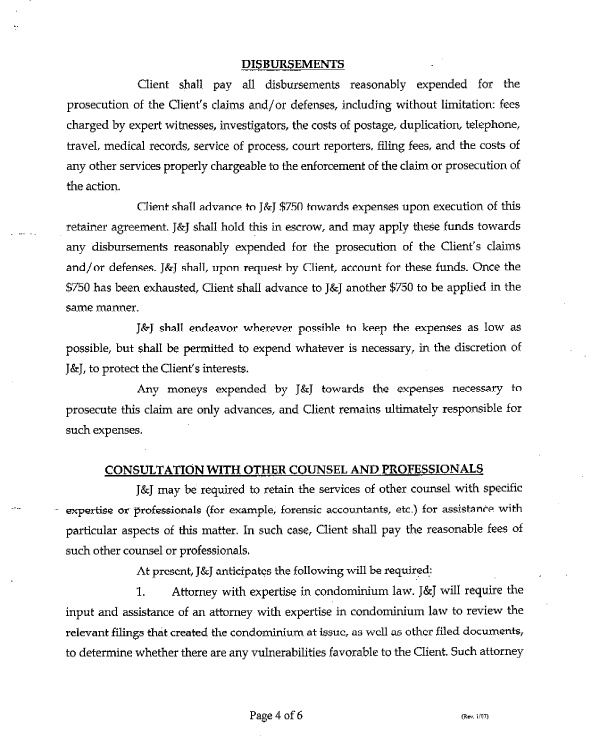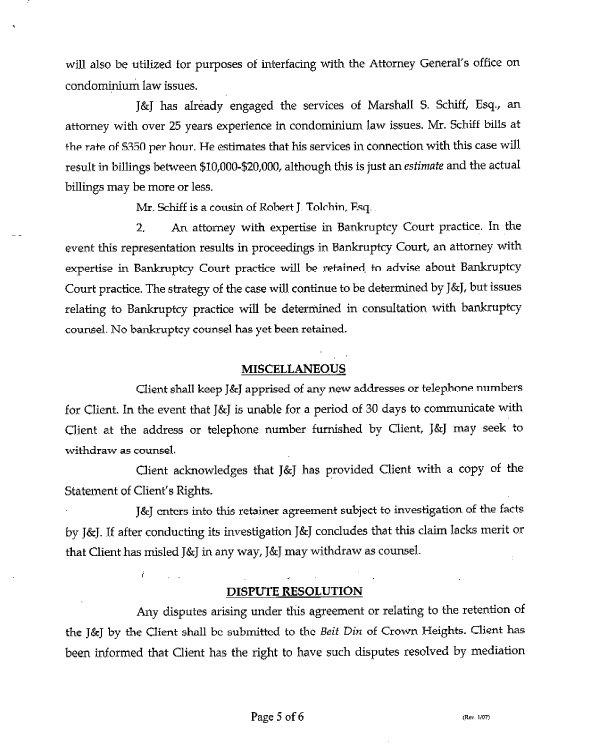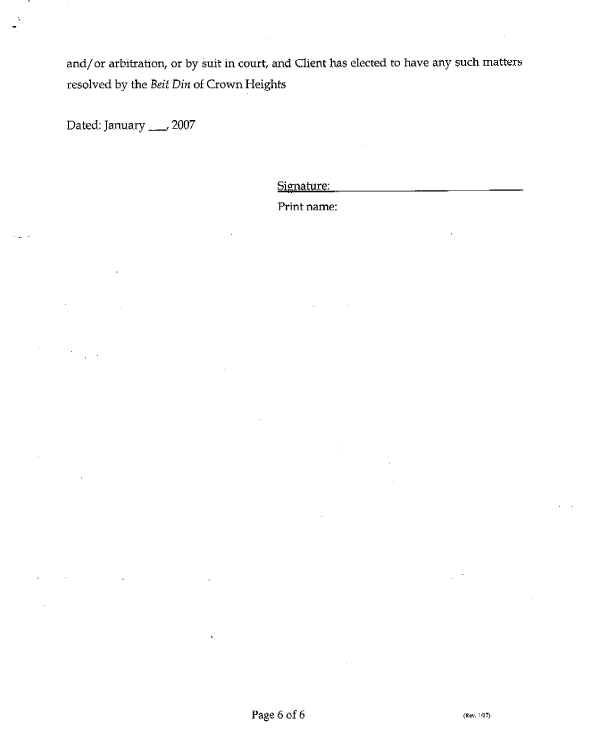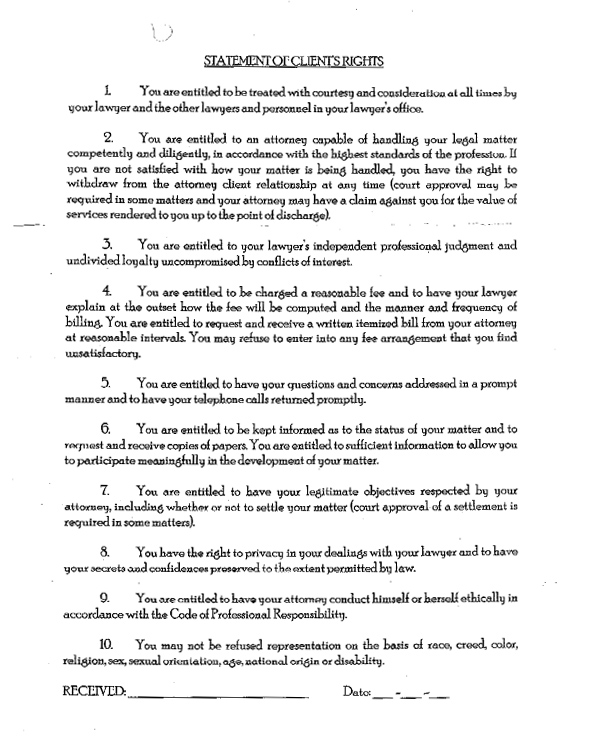 Foreclosure Letter from Lawyer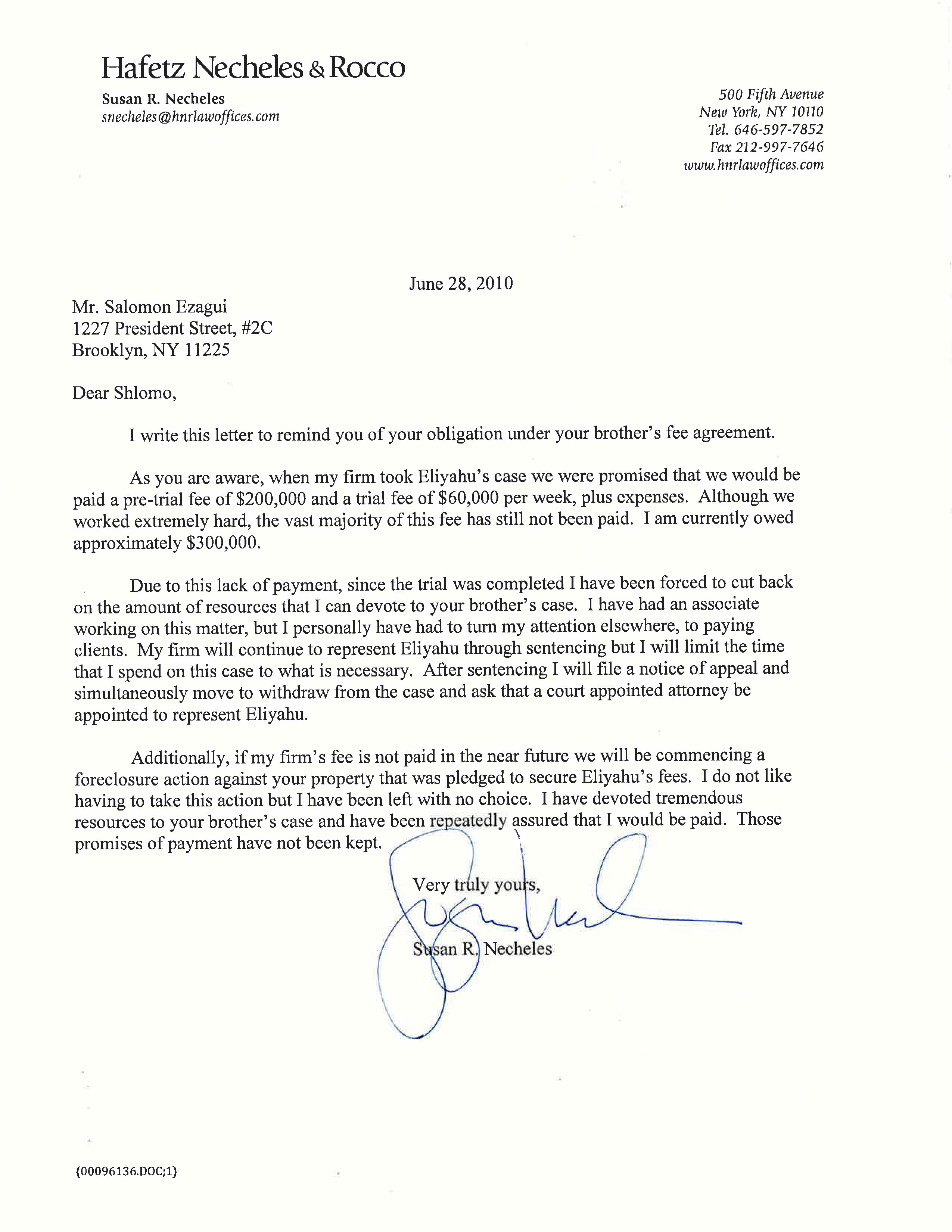 Family Support

Donate to the

Crown Heights JCC

General Chessed Fund

Legal Expenses

Donate to the

Crown Heights JCC

General Pidyon Shevuim Fund
Donations can be mailed to: CHJCC General Pidyun Shvuyim Fund
392 Kignston Avenue, Brooklyn, NY 11225 US
Or call Musia at The JCC 718-771-9000 ext 0